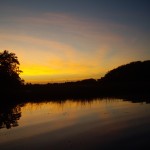 The news on the preparation for the Whitey Bulger's trial seems to have slowed to a trickle.  In discussions with others I've found many who doubt that he'll go to trial.  I've mentioned my feelings on this before.
The best argument among that those who think he won't is that he would like to avoid walking the plank in one of the two death penalty states where charges are pending against him.  If convicted in either state it may result in him getting sentenced to death.  To avoid that he would have to make a deal with both Florida and Oklahoma to let him plead to those charges and be sentenced to a life sentence which he could do in the federal system.
Both states have already made a deal with the trigger man, Martorano.  He pled guilty to murdering Roger Wheeler in Oklahoma and John Callahan in Florida.  We are told he got sentenced to prison for a period which was to run concurrently with his federal sentence of 12 years.  In reality he pretty much got off scot-free for each of those murders.  A concurrent sentence means all he had to do was the time for the federal sentence and when that is wrapped up all the sentences are finished.  He didn't even get probation for them.
The Florida authorities and Oklahoma authorities in order to help the feds let Martorano walk on two murders.  Florida by the way has executed about 35 people since 1990 and  Oklahoma has done 100 in that time period.  Martorano had at least 17 other known murders on his record when he pleaded guilty to putting a bullet in a man's head in those states.  He s now out and is bragging about his exploits telling the world, "I'm back!"
Whitey's partner, Stevie Flemmi, with many others murders himself, also pled guilty to being involved in the Florida murder of Callahan and Oklahoma murder of Wheeler.  He also escaped punishment for his role.  He received a concurrent sentence to run along side his federal life sentence.  Because he has agreed to cooperate, he is now doing easy federal time in one of the federal country club prisons.
Martorano and Flemmi got these "no time for murder" deals because they agreed to testify against Whitey.  Now I don't think either of these states wants to look foolish by making the same type of deal with Whitey.  It would mean they never punished anyone for the murder committed in the state.  I'm not sure the citizens of those states would be so happy seeing Whitey with 19 or more murders notched in his belt escape the chair and get no punishment when they've seen citizens of their state with one or two murders on their hands being sentenced to death.
Even if he could I still think he'll go to trial.   Whitey is 83 years old this month.  He knows that after the trial in Boston with its appeals and after any trial down South with those appeals he'd be in his 90s, if he lived that long.  So he can figure he's not going to face execution.
J.W. Carney his lawyer said Whitey wants the truth to be told (at least his version of the truth).  I'm sure that's true.  The only way it can be told is in the courtroom or write a book.  I'm not sure if he tried to deal out his case as part of the deal the judge won't let him write a book and profit off it (although Martorano told his gruesome story through another person and is making money off the bodies of his victims).  If the judge did not stop him I don't expect the prison warden to be affording him book writing privileges, especially if he ends up in ADX Colorado.
Speaking of books,  I have read some by tough hoodlums who say they knew Whitey well.  They suggest he is fearless.  I'd guess he'll want to confront the people who he believes have been telling or writing falsehoods about him.  He'll want to stare at them as they sit in the witness-box and watch them squirm, especially Weeks who was his right hand man and still calls him Mr. Bulger or Jim.  He'll want all of them to know they sold out their right to think they are men when they decided to become rats.
I know that last sentence sounds strange because we've heard Whitey was the rat for the FBI.  He doesn't look at it that way.  Whitey thinks of himself as some type of facilitator or some other euphemism.   Stevie described for Frank Salemme what he and Whitey thought they were doing, "we're giving them garbage and they're giving us gold."  All of these guys who have become rats don't think of themselves that way.  It's always the other guy who became a rat, not them.  Martorano says you can't be a rat if you rat on a rat. Others say you're not a rat if you don't rat on your friends.  Others like to put it that they were doing something noble.  But the bottom line is a person who gives information to the government on others is a rat no matter the reason.
Whitey now looks at Stevie, Martorano, Weeks and the others who are cooperating against him as even worse than a rat because they are committing the ultimate treachery, testifying for the government.  He'll believe that is something that he would never do.  In his mind that makes him better than the others.  That makes him the stand-up guy.
Stand-up guys don't make deals to squeal or testify.  The only stand-up person left from his group is Catherine Greig, who wouldn't cooperate and was hit with a heavy sentence of eight years in prison.  (That begs the question should a judge sentence a person to an extremely heavy prison sentence to try to help the prosecution.)  She puts to shame all the tough guys with their guns who couldn't do the time and ran to the government to cut a deal for themselves, especially Weeks because he's from Southie.
One of Whitey's remaining pleasures will be to tell those tough guys, "you couldn't even do what a woman did."  He can only do this when he has his chance to tell his story.
How can he possibly cut and run?  Even if he could get a deal out of Florida, Oklahoma and the feds, would he be the man he thinks himself to be if he stole off the stage of like a sneak thief and left it to guys who couldn't stand up to tell his story?  Whitey to preserve the myth of Whitey has to go to trial.