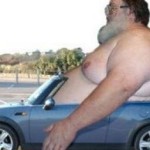 The most exciting thing about the day was seeing John Martorano come in. I wanted to see how he looked and how he would dress so I went to the courtroom where the trial was being held. You may recall I told how the last time he had a bishop's belly; when I first saw him walk by me to the witness stand I could only think that the belly grew; he is as I tweeted as round as he is tall.  But, he's not all that tall, only about 5'5″ or so.
But this roly poly murderer to give him credit dressed to the nines — with a nice cut suit that wrapped neatly around his wide girth under which he wore a blue shirt and had a blue silk handkerchief peeking out of the small breast pocket. I had to pay particular attention to his shoes. They were black loafers with tassels, like these but black.
He still has a full head of dark hair nicely kempt; he fit snugly into the witness chair, and he'd put on his dark rimmed glasses over his tanned face to testify.  For much of the time his answers were mumbled out in a boring, monotone voice of a man bereft of emotion. I felt like I was in a class on a hot summer day listening to the philosophy teacher read his note to us on epistemology.  The man is so hardened that he talks about murdering people, all of which he pretty much justifies, in the same manner a guy working on an assembly line talks about the daily drudgery of his work.
To make matters worse, I'd have thought that they'd have been some sort of exchange between these two former best friends but Whitey keeps his face straight ahead as if he has no idea there is someone ten feet to his right giving evidence that will bury him. The courtroom is set up so that the witness sits at the right side of the courtroom half way between the front and back; opposite him on the other side of the courtroom is the jury to which he is supposed to be speaking; in front of him is counsel table at which sits the five lawyers and Whitey.  Whitey is between his two lawyers Jay Carney, who sits immediately adjacent to the witness stand, and Hank Brennan. All Martorano testifies to is the side of Whitey's head.
On Whitey's left, his lawyer Hank Brennan has at least turned and is looking at Martorano testify. But Whitey stares straight ahead. Is he embarrassed that he was discovered to be an informant? Is he afraid to look at the guy telling of these stories that implicate him in murder. I don't get it. Why he won't look at him; it makes no sense to me. His body language suggests there is no fight left in him. I was looking forward to some type of confrontation — you know like when Terry Molloy testified at the crime commission hearing and Johnny Friendly told him never come back on the docks — even something as minor as Whitey giving him a dirty look would have been appreciated, but no, Whitey seems to have thrown in the towel.
Freddy Wyshak is leading Martorano through his testimony. We learned he is 72, born in Cambridge, graduated from high school, is divorced, had 5 kids, the last he named James Steven – after his two best friends Whitey and Stevie Flemmi – and is unemployed but living off social security.
Wyshak goes through the routine of him promising to tell us the whole truth and Martorano saying if he doesn't he'd go to prison for the rest of his life which Martorano knows there is no danger of doing that for the prosecutor would never undermine his case against Whitey by prosecuting him.
We hear how he could have gotten 12 1/2 to 15 under his plea deal and he got 14 even though he went to prison in 1995 and got out in 2007 which totals 12. This heartless man told us when he learned Whitey and Stevie were informants it broke his heart. It made him so upset he decided to become an informant himself.
He tells us how the government took his money but it really didn't because it turned it over to his ex-wife for some money he kept from her on selling their house; Wyshak suggested it was for back child support and he said that was not the reason since he did not owe for child support.
Martorano during this first part is saying no more than "correct" or "exactly."  So where's he getting his money that has him dressing so fine — someone paid him $250,000 for his life story which will be made into a movie from which he will get more if it makes money. Who said crime doesn't pay? I would think his victims' families would be all over that money; or is it that only the government has to pay when these people are killed and the murderers can keep their assets. What kind of people pay murderers money?
Another source of his money is from the book he wrote with Howie Carr who agreed to split the proceeds 50/50 with him. He got $55,000 up front and gets a 50% cut of the royalties, $20,000 so far, at least that's what I think he mumbled. Mr. Carr filled the gap and became the partner of Martorano after his other partners Whitey and Stevie broke up their prior arrangement.
I've got to run. Will write more later. Speaking of Carr, I'm waiting for the trial to begin and Howie walks into court up to the bar and calls to Carney. Carney gets up and has a nice friendly chat with him. Howie walks away with a big smile on his face. It's good for Carney that Whitey keeps staring ahead. I'm not sure he'd like to have seen that.