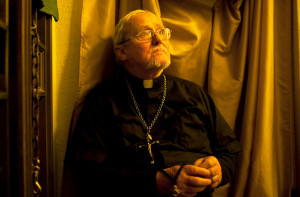 His Work As Described by a Fellow New York City Priest:
"Perhaps one would be scandalised at the sight of a Catholic priest, always in his black pants and black clergy shirt and roman collar, lugging furniture around the neighbourhood or fixing a junk car; people in the neighbourhood were not scandalised, they knew what this was about because it was their life as well. They knew from experience the poor live on the 'scraps' that fall from the tables of the wealthy. They knew Jesus told his disciples to go around and 'collect the scraps so that nothing goes to waste'. This was the work of Father Pat. Those who do not know the poor will not be able to understand. But this is the truth, so help me God."  
His Work As He Described It:
"I had, unapologetically, over the years, ran safe havens spread out over the city. They were for, say, an undocumented person who we needed time to prepare their papers until they could be presented to authorities, for someone on the run where we didn't have time to establish their innocence. Or it could have been a wanted Irishman or Palestinian. We helped a lot of people. All through it I circumvented every law in the book but I never broke any of them, so (the authorities) couldn't get me." 
About Where He Began Working, The Lower East Side of N.Y. City in the 1950s:
"The Lower East side was the most kaleidoscopic neighbourhood in the whole United States and, probably, the world. It was magical. You had poor Poles, Russians, Germans, French, Irish, Italians. Kids playing around garbage cans with old used tyres. On every street corner you saw beautiful eyes staring out of sockets of poverty. When I arrived there was not one Hispanic or black person here. There were Jewish stores everywhere, greengrocers. It was like an Eastern European village; Polish bakeries, haberdashery stores on every corner." 
About Natavists both Then and Now:
"Later, as those people climbed the socio-economic ladder, there would be great prejudice, because the first who had arrived felt it was their territory. I heard people saying to me 'you're bringing these 'spic (Hispanic) kids here' and I was outraged. I said 'are you a native American? I don't see feathers coming out of your head!'" 
About Being Irish: 
When accused of being an IRA member: "We Irish suffer from a different affliction; it's called genius."
About His Life In Prison in the United States:
"In the system I was treated badly. I was treated as badly as if I was Gotti or someone. They black boxed me, meaning they put your hands in a device so you can't even feed yourself. They moved me around. That's the type of stuff they do, they disorientate you, they call it circuit therapy. Your belongings are always following a few weeks behind. I was in about four or five Bastilles of the federal government."
""They put me on the `circuit therapy,' where they keep you on the road for weeks. They sneak you out and try to lose you in the system." 
"One day, the guards brought in a prisoner who had 10 bodies [slang for 10 murders] on him, He walked right up to me and embraced me." From then on, Fr. Moloney was a protected man.
 He was thrown in solitary confinement when the prison officials discovered that he had used a prison pay phone to say the funeral Mass for his adopted son in Hell's Kitchen via speaker-phone.
"I was thrown from the Age of Reason to the Dark Ages.To the state, the prisoner is a piece of garbage."
About American Prisoner Guards:
"Up on the wall everywhere [in prison] there was a sign saying 'in God we trust and I'd say to them 'you'd better not trust him, you'd better fear him."
About The Attitude The Prisoners Should Take:
"It was almost a mystical experience. I started a club. It was called the smilers' club. I would just tell the lads, walk and hold your head up high and smile. They have our bodies but they can't imprison our souls. Let nobody take your inner equilibrium, they don't own that. I had a sign up in my cell that said 'stone walls don't make a prison nor iron bars a cage'."
On Sam Millar The Blanket Man Who Jammed Him In:
"Sam was a quiet man. He would never use two words if he could use one, never use one word if he could talk to himself." 
''Part of me says Millar was involved, then another part of me says he would never do that to me because he knows my dedication to the undocumented of all nationalities. My God, I've even helped out English lads. I did not understand and I am deeply hurt by it. I suppose until I meet him again I'll never really know. But I cannot believe he would do this to me. Other people believed he stiffed me, I just don't know."
On Irish Prisoners of the British:
"Two years ago, I met with seven men who spent 10 or more years in British prisons and were released under the Good Friday Agreement. They didn't see their comrades die just to surrender." 
"I had undying admiration for these men. 'I make no bones about it. Ten men died and this man [Sam Millar] stood up for what he believed in."  
"I have sympathy and compassion for everyone. I've sat in federal and state courts over the years and I would not have believed four years ago the FBI would have been capable of lying like they did before man and God. They knew they were lying. I heard agents repeating things they know I never said."  
 "The `F-B-Lie' had me convicted on flimsy, circumstantial evidence. They needed a scapegoat."
About What He'll Do After Prison:
"They sent a scapegoat out into the desert to die but he's come back with two horns of righteousness and justice and he'll butt them all on his return. I'm going to do it."