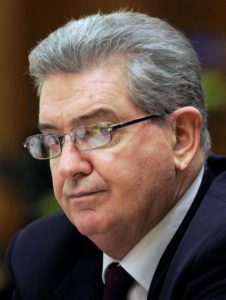 There is little doubt in my mind that John Connolly is wrongfully imprisoned. I spent the last three days spelling out the absurdity of the Florida Appeals court decision that keeps him there.  There are so many other factors that likewise must be considered  in his case.
I do recognize the futility at banging this drum especially now since the Department of Justice is headed by William Barr who has appointed John Durham as his hatchet man to go back and try to exonerate Russia from its involvement in Trump's election. Durham is the prosecutor who tried the Connolly case so the chances of his admitting that Connolly is imprisoned wrongly or that any Trump appointed judge finding that are next to zero.
Connolly will die in prison. He has been there since 2002. Why go on banging my head against the wall. He's not related to me although we have the same last name; nor was I ever friendly with him although I met with him a half-dozen times in our official capacities – he as an FBI agent, me as a state prosecutor.
I persist because having been a prosecutor most of my legal career I do believe in justice and that where an injustice occurs it should be noted and fought against. I attended Connolly's federal trial in Boston in 2002, wrote a book about it, and followed the case as it went along as well as the participants in it.
The basis upon which Connolly was convicted in Florida was the testimony of two men each of whom had committed twenty murders who made deals with the federal prosecutors to testify against Connolly in exchange for leniency.  They were prepared to say anything to get their deals.
The Florida court wrote that Connolly: "wanted to protect Bulger, Flemmi, Martorano  and himself  from criminal prosecution." (emphasis the court)
It went on to say, "once the FBI located Callahan and implicated Callahan in Wheeler's murder, Callahan would cooperate with the FBI for a reduced sentence, and Callahan's cooperation would implicated Bulger, Flemmi, Martorano and the defendant in the Wheeler murder." (my emphasis)
The court also said: "The defendant therefore knew that Callahan needed to be silenced, . . . was in the same way they silenced Castucci, Wheeler, and Halloran – by murdering him."
The problem with the latter statement is that a Boston jury found Connolly did not leak anything about Castucci or Halloran. The Florida court ignored that finding.
The other problem with these statements is that Callahan presented no threat to Connolly. There has never been any showing that Connolly had anything to do with the Wheeler murder. The motive for Connolly to want Callahan murdered does not exist.
The Wheeler murder was brought about by Callahan hiring Martorano to go to Tulsa, Oklahoma to murder him. Martorano said he told Flemmi about it and Flemmi said it was all right. Martorano got $50,000 for the murder from Callahan. Flemmi and Bulger according to Martorano sent the guns by Greyhound Bus to Tulsa.
Aside from the Florida appeals court misstating the evidence and its outrageous conclusion the crime of murder is ongoing three weeks before it is committed, the idea that Martorano had to be told to murder Callahan who was the only one who could implicate him in the Wheeler murder was absurd. Martorano wrote a book in which he told about his twenty murders and other activities designed to prevent people from talking.
Callahan was dead as soon as Martorano knew he was the focus of the FBI's investigation of the Wheeler case. FBI Agent Gerald A. Montinari testified that a Brian Halloran told him that Martorano had murdered Wheeler, that Flemmi was the driver, and Whitey Bulger in the backup car. To get more evidence, they wired Halloran. He talked to Callahan on three occasions but nothing came of it. Montinari testified that other agents had filed reports that the word on the street was that Halloran was cooperating with the FBI. Dozens of FBI agents knew about it.
There was no need for Connolly to tell Martorano or his associates that the FBI was focusing on Callahan. It was common knowledge. By adding Connolly into the mix Martorano who murdered Wheeler and Callahan was able to get a great deal for himself, 12 years in prison and 20 thousand dollars on release for 20 murders.
Connolly meanwhile gets the death sentence even though he never spoke with Martorano, even though he was never in jeopardy if Callahan talked, even though it took a disgraceful court opinion all because the prosecutors were trying to squeeze him to get someone else.