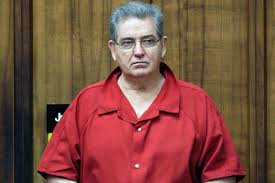 There was another thing. This one is the thing that first got me interested in this case. It is the FBI investigation and Federal prosecution of MA State trooper John Naimovich. The FBI investigation was done by the group in the Boston FBI office where Connolly was assigned. It was headed by a supervisor James Ring. He was nicknamed "The Pipe" by Whitey and his buddies. Ring was alleged to have received expensive gifts from Whitey.
Naimovich, the State Police Special Services Unit under the command of Sergeant Bob Haley, and I had been doing wiretap interception of bookie offices in Norfolk County during the spring into fall of 1987. We were following our traditional approach. We started at a lower level and moved up to bigger and bigger bookie offices. This operation was showing itself to be particularly successful because we had already made a couple of raids gathering evidence against people. We were calling people into the grand jury. I would ask them if they knew certain people. They would take the Fifth but go out and tell others who I was inquiring about. Meanwhile we were still up on the intercepts listening in gathering in the intelligence.
One of the persons in the latest raid and one who we brought before the grand jury was Jimmy "the Sniff" Katz who was one of the best bookies in the state. He was operating in a Boston office and when we hit his office he went out the window and down the fire escape leaving behind his shoes and other items. It was the second time that I had grabbed Katz, the other being some years earlier. Katz would testify against Whitey in his trial.
Aside from Katz we took down more than a dozen bookie offices. Names that would later be identified as part of Whitey's  organization like Joey Yerardi or Michael Desotell were among those involved. In a sense our actions here would help the subsequent investigations by Fred Wyshak and his team.
Many of the bookies we were hitting were paying tribute to Whitey and Flemmi to operate. The quid pro quo for that was that Whitey would pick up their legal expenses if they were hit. Without us knowing, we were hitting Whitey and Flemmi hard in the pocketbook. As Frankie Salemme said of both: "they only love women and money and not necessarily in that order." They could not have been happy with the rising cost of doing business.
Also without us knowing it the FBI was sticking its nose into our operation. Were they doing it at the behest of and to protect Whitey and Flemmi? In the summer of 1987 the Ma State Police decided to consolidate Naimovich's unit with a unit that had worked closely with the FBI under a state police captain. The new unit joined us in our ongoing wiretap. It was then able to feed back to the FBI what information we were gaining over the wires. With this information Connolly's unit in the FBI knew better than we did that we were hot on the track of Whitey and Flemmi. From what we learned about them there is little doubt Whitey and Flemmi were complaining to Connolly about the costs. The FBI agents came up with a plan to bring our operation to a halt. It would involve using Naimovich's fellow state troopers to investigate him.
A trooper working with the FBI was called into its office in Boston. He was confronted with the FBI agents telling him they had a leak of information out of their office. As best the agents could determine, this trooper was the only one outside the FBI who had the information. In other words Agent Ring and another were accusing the trooper of leaking secret information.