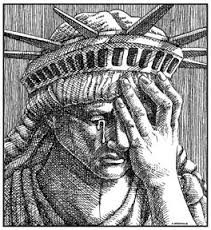 Accused of being a Monday morning quarterback because I say the horrid murders of the 49 men and women at the Orlando gay club could have been stopped, in the same way I said the Tsarnaevs could have been stopped before they murdered on the day of the Boston Marathon; and even, the 9/11 assault on America (remember the FBI knew these Saudis were taking flying lessons and had received tip offs) was preventable.
I say this because the FBI is inured in the same old – same old way of doing things without ever looking to see that what it is doing is not working. It continues on without fresh air intruding upon its stuffy J.Edgar Hoover culture.
Back to the most recent horror. Twice Omar Mateen, the man whose name will never cross the lips of the Director of the FBI for some weird reason, was investigated by the FBI. Twice his case was closed out. Ask yourself why it had to be closed. It is all about the FBI's love of statistics. It requires it agents, and by the way it has lots of good dedicated agents but they are trapped in this horrible culture, to close a certain number of cases a year.
We were told by Director Comey he reviewed what had happened in the Mateen case and as every director who ever served in the FBI found in notorious matters the FBI did nothing wrong. Now we are learning another fact that did not come from the FBI  but from others due in part to the mainstream media finally catching on that the FBI is not doing what it should be doing. Remember how often I harp on how the FBI has corrupted our press by intimidating it into following its line without criticism – if it doesn't it won't get the leaks it needs to make stories. Some courageous editors in the NY Times and Wall Street Journal are recognizing this. With the resources they have and recognizing the FBI is failing us they have set out to investigate why the FBI can know of people before hand who are deemed dangerous and not prevent their subsequent actions.
This is not a lone wolf situation where someone the FBI knew nothing about decided to pull off an atrocity. It is a person who someone identified to the FBI as a threat, who turned out to be a threat by murdering Americans, yet the FBI doing its usual let this slip by it.
It now turns out that Mateen was reported to the FBI in the weeks immediately prior to his Orlando massacre by a gun store owner. The Wall Street Journal to its credit went to the gun store owner and learned it shut Mateen off from any purchases and reported him to the FBI.  How that does square with all that we know?  How in light of this can Director Comey say the FBI did everything correctly?
49 people (omitting the Marathon and 9/11) are dead because the FBI again messed up. It really needs a culture wash. Its system of setting up mentally challenged individuals without the resources or know how to cause harm by having highly paid informers and undercover operatives talk them into planning nasty terrorist actions and providing them with the means and immediately arresting them is not protecting us.
A simple system of keeping all persons who are validly reported to have terrorist tendencies (both Mateen and Tamerlan Tsarnaev were validly reported) open so that periodic checks are made on them and anything unusual about them is immediately flagged and acted upon would be a hundred times better than what it is now doing.
But what can we expect from a director whose initial response is to think that by not naming the murderer he is accomplishing something. Our only hope is for a change in the FBI and that will only be brought about by courageous people with clout. Understand clearly the FBI will fight tooth and nail to keep things as they are – it loves its security blanket it hides under. If we are to be safe it must admit it failed here and it must change.