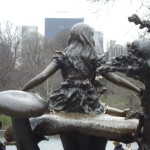 I wrote yesterday that Congressman Rogers said Tamerlan Tsarnaev's trip to Russia escaped detection by the FBI because he used an alias. Sen. Lindsey Graham, R-S.C., said Monday that Tsarnaev's name was misspelled and Tsarnaev's correct name never went into the system. Then it was reported "Homeland Security Secretary Janet Napolitano said Tuesday that the government's internal system "pinged" when Tamerlan Tsarnaev left the U.S. for Russia last year, in a statement that appeared to conflict with earlier suggestions that the trip went unnoticed." Then we hear the CIA and others had him listed.
Putting all that together we have one highly placed insider saying they missed Tamerlan trip to Russia because he used an alias, another similarly situated saying it wasn't that but it his name was misspelled, and a final one in a like position saying we knew all along that he went to Russia. I guess that's what happens with spinning. It gets one's head spinning.
I'd suggest to the FBI that rather than saying as it did last Saturday, "no further comment," it'd be best to say: "we're gathering the facts and we'll hold a press conference and tell you what we can about this." Then when the members of Congress like Rogers who are anxious to help it want inside information, tell them you'll let them know after the facts are figured out. Suggest to him the best way to help is let you do your job.
From what I've been reading the FBI at its press conference in this case would say (which it is finally getting out to the press though friendly members of Congress and "high placed sources") that: ""The name of the dead Boston Marathon bombing suspect was included in a federal government travel-screening database in 2011 after the FBI investigated the man at Russia's request. . . . An airline misspelled Tsarnaev's name when it submitted the list of passengers on Tsarnaev's flight to Russia in January 2012″  but still the Homeland Security Department picked it up and checked his name "through government databases, including the terrorist watch list."
"U.S. officials recognized that Tsarnaev, the subject of a 2011 FBI inquiry, was on the flight. He . . .  faced no additional scrutiny because the FBI had by that time found no information connecting Tsarnaev to terrorism."
The FBI should come out and tell us that: "In 2011, Russia asked the FBI to look into Tsarnaev Tsarnaev [saying he] had changed drastically since 2010 as he prepared to leave the U.S. to join unspecified underground groups."  Having received the Russian request, "The FBI interviewed Tsarnaev and his relatives and didn't find any terrorism activity. FBI agents conducted an "assessment," an inquiry with a relatively low level of intrusiveness . . . [to] obtain publicly available information, check government records, peruse the Internet and request information from the public. . . . [I]t checked U.S. government databases and other information to look for derogatory phone conversations, possible use of online sites associating with promoting radical activity and associations with other persons of interest, Tsarnaev's travel history, plans and education.
The FBI did not find any derogatory information on Tsarnaev and a criminal case was not opened. The FBI shared its results with Russia in the summer of 2011. The FBI asked Russia for more information on Tsarnaev but never received any." It thereafter closed out its case against him.
If that is what happened then we have a starting point.  We don't have it unless the FBI lays out what it did. We've seen that what it did is not enough The FBI can admit this. It should point out where it failed and what it will do to tweak its system. I'd suggest it keep the case in an active status even though no one is working on it actively so that if the person's name pops somewhere else it will be notified. It can pull the person's file every 6 months up to five or ten years for a review.
The FBI should never slam the door shut on something as important as this.  It shouldn't expect surrogates to get the story straight. It should forget the embarrassment, especially if it did what it was supposed to do, and tell us what went right and what went wrong. We know J. Edgar Hoover wanted us to believe his agents were supermen.  But we don't. We realize they are just like the rest of us and are fully capable of making mistakes. It really is time for the FBI to open up and level with us.