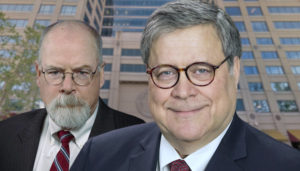 The Court of Appeals Considers Connolly's Contentions on Salemme's Perjury
Connolly would file a motion for a new trial based on discovering Salemme lied and also other material. Judge Tauro denied the motion without giving any reason. Connolly then brought the case to the Appeals Court.
That court indicated in its opening line that Connolly was not going to get a fair hearing. Judge Selya wrote the federal courts "are by now painfully familiar with the Winter Hill gang and its corrupt relationship with the Boston office of the FBI." Hard to escape the feeling that it had slammed the door on Connolly before it heard a word of his appeal. In other words, no matter how egregious his conviction may have been they are just tired of listening about it.
As to the issue of Salemme lies at trial, the appeals court, as expected from its opening line, gave that short shrift. It agreed Salemme was not wholly truthful at his trial. Then it says "this possible perjury is . . . of minor moment." Why, because the jurors knew of Salemme's nefarious past and had "good reason to believe that is every word was not deserving of unqualified respect."
Yikes! A person who admits he is a gangster can perjure himself at trial and because the jury knows he's a gangster it knows he may be perjuring himself. Doesn't this bring us back to the critical first issue: why should a gangster be allowed to testify if the jury has to guess at when he is telling the truth?
Judge Selya went on to say the district court judge could conclude that "that neither the alleged perjury nor the attribution of one more murder to Salemme was likely to taint his other testimony." The problem with that reasoning was the district court judge did not write a decision relative to the issue. He just denied the motion for a trial outright without a hearing.
There was another part of the motion for a new trial which I will next consider but Judge Selya who for whatever reason consults Roget's Thesaurus when writing his opinions noted that the points raised: "each of which is asthenic, [do not] gain strength by the aggregation." I had no idea what asthenic meant so I looked it up. It is defined as:  "of, relating to, or exhibiting asthenia." I looked that up. It is defined as,  "abnormal physical weakness or lack of energy." It is a medical term. I suppose Judge Selya is suggesting that it is a weak argument to point out a person who provided critical evidence at a trial committed perjury. To me that sounds like an asthenic conclusion. Selya would go on to say that Connolly was not entitled to an evidentiary hearing in the district court because it  "would be supererogatory."
We must wonder what lessons Durham takes away from this. It appears that the use of perjury at a trial is to be permitted. Does this give Durham the idea he can continue to do this in his other investigations?
Whatever happened to the doctrine: Falsus in uno, falsus in omnibus. It is a Latin phrase meaning "false in one thing, false in everything."[ At common law, it is the legal principle that a witness who testifies falsely about one matter is not credible to testify about any matter. Some courts got away from the doctrine. Judge Posner pointed out in saying the doctrine should not be universally applied that "the mistakes that witnesses make in all innocence must be distinguished from slips that, whether or not they go to the core of the witness's testimony, show that the witness is a liar."
In the Connolly case there was no innocent mistake. He lied. It wasn't "possible perjury" or "alleged perjury" as Judge Selya wrote it was plain old perjury. His lies did go to the core of his testimony.
The judge pointed out that he admitted to committing other murders but those were all before 1972; the jury could well have concluded he had stopped murdering people after he got out of prison in 1988 not knowing he was actively engaged in murder in 1993 or perhaps even more recently. How is it possible to believe that the jury knowing that would have just dismissed it from their determination of his credibility?