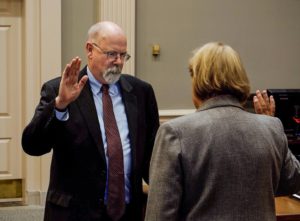 The Court of Appeals Considers Salemme's Story to Confidential Informant
How then does Judge Selya work to make this into an asthenic showing? First he said Salemme's testimony received substantial corroboration. The corroboration was not of his critical testimony but only that he was seen with Connolly. Obviously far from substantial.
Next he writes that even if the "CS faithfully recounted Salemme's rodomontade, the district court easily could have found that the recantation unworthy of credence and insufficient to shake its confidence in the jury's verdict." Unfortunately, as noted, we don't know what reason the district court refused to consider it because it wrote no decision.
As to that, this was not really a recantation which is defined as "a term that means to take back or to withdraw a statement that has been made, to repudiate." It is usually done when the person who testified comes back into court and says his prior testimony is false. This is immediately suspect because of the myriad of pressures that could have been put on a person afterward or because the person has something to gain by it. Here, Salemme was not recanting, he was voluntarily telling why he testified as he did. He would not dare recant because the prosecutors enforce his silence by threat of prosecution.
Judge Selya wrote that Salemme was trying to insulate himself from having been a mafioso who turned government witness. But Salemme himself said he had no fear because he was testifying against an FBI agent. In fact, he refused to be put in a witness protection unit in Lexington because it was all right to testify against an agent. The judge then pointed to three cases that involved fear of retaliation that obviously are not applicable.
He then suggests, contrary to his prior statement of Salemme's fear of his safety, that "he would have thought that he had little to lose by boasting about his ostensible perjury." It was not ostensible. It was clear perjury. How can a judge on one hand say the person feared retribution and then in the next paragraph say he had little to lose? One thinks he is half paying attention to his writing but throwing out words hoping that some of them will stick to the wall.
Judge Selya notes "a worrying pattern emerges: many of Salemme's readily verifiable assertions are demonstrably false." In other words Salemme is an out and out liar but it is all right that he was allowed to testify to the jury. Then when we consider what I wrote about earlier that it was clear Salemme committed perjury while testifying he murdered no one when he was boss of the Mafia family, Judge Selya writes: "Although the fact that a recantation is peppered with apparent falsehoods does not compel a court to discredit it, that fact certainly gives the court sufficient reason to invoke the hoary doctrine of falso in uno, falso in omnibus. The court may reject the recantation on that basis."
We are left a little dizzy with Judge Selya saying the hoary doctrine does not apply when a witness lies during a trial; but it does when one lies in telling a CS a story. You would think the trial testimony given under oath would have more significance than a chat in prison.
Judge Selya ends this section by saying "even assuming that the recantation were true, it would not prove very much." Are we to assume prosecutors presenting a witness from whom it created a false story is nothing? The judge goes on to say there was: "substantial corroborating testimony" but as shown above there was none on the critical matters.
The court had to take contradictory positions within its decision to uphold the denial of Connolly's motion for a new trial. We might have been better off if the judge after saying we "are by now painfully familiar with the Winter Hill gang and its corrupt relationship with the Boston office of the FBI" went on to say "so without more we are upholding Judge Tauro's denial of a motion for a new trial." That would have been a lot more honest and refreshing than reading through the machinations in the opinion.