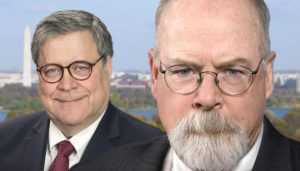 Durham is a prosecutor without a conscience. He is now used by Attorney General Barr to come up with some charges against Obama's people. For the first time in American history an attack is being made on a predecessor president by a man who is not bothered with perjury and an attorney general who had a lawyer put back into jail because he did not want him exercising his First Amendment rights. Trump said: "I look forward to Bull Durham's report — that's the one I look forward to."
Perhaps we could overlook all this if Connolly was not still in prison. But what the justice system can do to the least of us it can do to any of us. Connolly was a scapegoat for the malfeasance of the FBI. I noted in the beginning in my book about his trial, Don't Embarrass The Family that was the main reason for his prosecution. To understand Durham, that book provides insight into his manner as a prosecutor.
One of the saddest parts of the case is Connolly never seemed to realize it was his own people, the FBI, that turned on him and not only failed to lift a hand to help him but did its best to bury him. Robert Jordan who worked with Connolly as an agent and had become an assistant director of the FBI wrote to Judge Tauro at the time of Connolly's sentencing. He said Connolly "betrayed his oath of office, his duty to his fellow agents, and his brothers and sisters in law enforcement" by working with Whitey Bulger and Steve Flemmi. How could that be when all in the FBI including Jordan knew he was assigned to do just that?
Jordan went on "I can attest that there is no FBI policy, official or otherwise, that enables an Agent to veer from the law in the development and maintenance of criminal informants. The FBI has no 'wink-and-a-nod" policy that condones John Connolly's conduct." That is given lie to by the many FBI agents who closed their eyes to the criminal activities of their informants. It is shown by the FBI's hiding of Robert Daddeico to prevent him from coming back to testify against its Top Echelon Informant Flemmi. Even Connolly's supervisor, John Morris, asked what Bulger and Flemmi wanted for their information. He said Connolly told him "all they want is a head start." Morris said he interpreted that as being tipped off if they were about to be indicted so they could flee. The Massachusetts State Police intercepted a call between and FBI agent and Mafia hoodlum who was his Top Echelon Informant wherein the FBI agent said: "My job is to keep you safe."
A prominent FBI Agent out of Chicago told how the FBI would commonly violate the law by breaking  into buildings and home to plant listening devices. They were instructed by FBI headquarters it was all right to do that but if they got caught and the FBI embarrassed they would lose their jobs and be called rogue agents.
Jordan did not stop there. He said Connolly compromised several more investigations by the FBI and the State Police. These he said were foiled by Connolly leaks which "poisoned the trust that had existed among law enforcement and caused us to grow suspicious of one another. This is the cost and legacy of John Connolly."
Supervisor Morris said they routinely tell informants when wiretaps are installed so they will avoid being intercepted. As for the trust, it never really existed. No one in law enforcement liked the FBI. It was not a team player. My office avoided dealing with it while dealing with all the other federal agents. The suspicion was always there that the FBI sought publicity for itself and pushed others to the back of the line. In a major attack where two persons who worked at clinics where abortions were performed in Brookline, Massachusetts, the FBI sought to take over the investigation. We rejected it because we believed it would not deal squarely with us. It had nothing to do with Connolly.