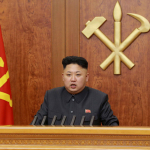 Don't ever get on the bad side of a certain type federal prosecutor. If you do and the prosecutor has unlimited powers like Kim Jong-un you will spend the rest of your life in prison. Even your family may be dragged in after you, or, if not imprisoned, impoverished.
Fortunately most federal prosecutors don't have the power to pursue people endlessly to satisfy what borders on an irrational compulsion to destroy. Usually there are restraints upon them. Sometimes it is the media that will point out how it was never intended that for crimes not punishable by death that people do life in prison on the installment plan. Other times with the change-over in local U.S. Attorneys the newly installed leader will calm the waters and turn the prosecutor's attention to other subjects.
As unusual as it seems, there may be an occasion like we see now where a prosecutor is in his sixties, he has done nothing but prosecute all his life and knows no other pursuit, has friends in the Department of Justice some who have been there almost 50 years who support him, who has been a source and friendly with the local media keeping them on his side providing them with inside information, his media friends end up with secret grand jury minutes, and his boss seems to either lack control or be oblivious to his crusade.
In other words at times there arises a prosecutor who has no restraints on him. He can pursue his quest no matter where it takes him or no matter how many lives it shatters. He does this with the full power of the federal government behind him. The judges, cowed, concur in his actions.
There is no way the Founding Fathers could ever have anticipated such a person could exist in America. It was for that reason that we had a Revolution because King George III had such powers. This prosecutor is able to trample down the Bill of Rights with clever tricks. He twists the law so that almost any normal act by any person can be turned into a major crime. He seeks not justice but to exert harm.
He creates crimes. A noted Massachusetts attorney said that after his most recent trial which he called an "ill-considered, reckless prosecution" the judge was prompted "to deliver to the jury an unusually prolix and complex set of jury instructions – his attempt to clarify legal concepts that, in reality, could not be made clear." How can something be a crime when no one can understand why it is one?
This prosecutor having finished that case is now back to his original pursuit, that of what he said is the force of all evil and which destroyed an FBI agent, "the Bulgers and Southie." And as expected, the reporter who received the leaked grand jury minutes is telling us his plans. She tells us with undisguised glee that he's going to bring Catherine Greig back before a grand jury.
I've written before about Ms Greig. She ran off and stayed with Whitey Bulger when he was hiding out from answering to an indictment. She refused to provide any information to this prosecutor after being apprehended with Whitey. She had never committed a crime in her life except for being Whitey's girlfriend.
Yet, when she was sentenced to prison, the judge overlooked the probation recommendation which is usually followed of around two years in prison and sentence her to eight. This was more than Mafia leaders were being sentenced to at the time. It was more than a murderer of five people received. Her crime was being with Whitey Bulger.
The sentence was truly outrageous. Beyond that, she was forced to listening to victims of Whitey's crimes to which he had yet to be convicted castigating her in court. These were crimes that she had no possible connection with. It showed how the federal prosecutors and judges drink out of the same bowl.
Catherine will be put before grand jurors while this prosecutor acts like the Grand Inquisitor of the Inquisition. If she refuses to answer she will be immunized and asked the questions again. If she refuses she will be held in contempt and sentenced. The sentence for contempt will be in addition to what she is now serving.  If she answers that she knows nothing about Whitey's assets, she will probably be indicted for perjury or obstruction of justice, even if it is the truth. This prosecutor has a bag of tricks to play. Like he's doing with FBI agent John Connolly, he's going to try to have Catherine Greig die in prison on the installment plan.
Then he will set his eyes on the Bulgers themselves. All Whitey's siblings, his nieces and nephews, will be in his sights. Perhaps he will go after Southie.
It's like what happens in North Korea. This prosecutor rues he doesn't have the power of Kim Jung-un. There when a man falls out of favor all his relatives have their assets confiscated and are put in prison if they are lucky; if not, as what happened to Kim Jung-un's uncle and all his blood relatives, they are executed.
Power corrupts. Unrestrained power corrupts absolutely.