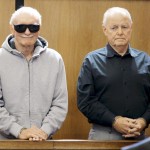 Jean, a U.S, citizen stranded in Panama, wrote to me: "wondering what u thought about the evidence from the MA State Trouper with respect to JM being back in the life and being protected " '
Jim, background unknown, wrote: "Any update on the Rule 35 motion?"
JM is John Martorano who wrote a book called Hitman spelling out his 20 murders. When asked about the title of the book he said he didn't think he was a hitman. Even though it is clear that he fit perfectly into the definition he didn't like it for some reason. He tells us that the Mafia's Gerry Angiulo  hired him and Howie Winter to kill Indian Al and his gang.  He also tells us John Callahan hired him to murder Roger Wheeler. Both Angiulo and Callahan paid him around $50,000 grand for his work.
Only in the head of a deranged killer could he think he wasn't a hitman; only in the federal system could a hitman be used as a star witness and be walking the street. I figured if he didn't want to be called hitman he should be called Murderman which he is quite proficient at doing especially when the other party has his back to him or is unarmed.
Jean want to know if he's still doing business and is he still being protected. I'm sure he's still being protected because the federals want nothing to happen to him that would impugn his testimony in the many cases surrounding Whitey. I'm not sure why that is the case. The Boston juries who heard him testify have not believed him in those situations where he had no corroboration.
Is he back in business? Well seeing that it is the only business he knows and seeing that he has the federals covering his back, sort of like the guys in the FBI's Top Echelon Informant program, there's little incentive for him not to be. I wonder if he has a license to carry? Have any people gone missing lately"
Jim in his question about the Rule 35 motion is referring to the deal that Steven Flemmi made with the government in exchange for his testimony. As bad as Murderman is, Flemmi is worse. Murderan and Flemmi actually go way back to the time they were in the Roxbury Gang. Ever here the federals talk about that gang, or even read about it from any of those who wrote books relative to Winter Hill? For some reason no one wants to talk about it, perhaps they don't know of its existence.
Flemmi has probably murdered as many people as Murderman. However, were Dante to place him in Hell, he'd have to be in a lower place than Murderman. Flemmi murdered his girl friend and his step-daughter; and Mengele-like cut off their fingers and pulled out their teeth.  The only appropriate cognomen I could come up with for him was Benji Ditchman. When I served our country in Japan I knew one thing I wanted to avoid were the Benji Ditches.
One submarine sailor wrote about having a couple of drinks in Japan that afterward: "I was so drunk I went outside and fell in a Benji ditch in my dressed whites. Marines at gate didn't even look at my ID they held there nose and told me to get lost. Crew made me sleep on the dock until someone had courage to bring me new clothes — that uniform went into the deep six bin and not on the boat."  
Benji is supposed to spend the rest of his life in prison but when asked about it he suggested that he still had a hope of getting out. The way he can get out is if the federal prosecutors file a Rule 35 motion which can modify his sentence. When pressed during Whitey's trial the prosecutor Wyshak professed there was no way Benji could be released but he knew otherwise.
So we look forward to the day when the U.S. government will tell us Benji should be released from prison which will be one of the most despicable actions ever performed by any prosecutor. Of course, a judge will have to go along with it but that will be such a technicality it's not even thought about. My guess is that once Whitey's appeal is rejected, Benji will be back on the street.
As for Howie Winter, the other guy hired by Gerry Angiulo, he's facing and extortion charge for a crime committed a couple of years ago but that also seems to have gone away.  He was indicted in September 2012 for the extortion; it is now two years later and this man who is reputed to have murdered many others has still not been brought to trial.  Does that seem strange? Maybe the Middlesex DA's office will tell us what's up. Or, is it just another example of our federal government climbing into bed with and protecting murderers?
It seems the federals want to put Murderman, Benji and Howie back together again. Who'd ever have thought? I wonder who'll take Whitey's place. You don't think it'll be a fed, do you?