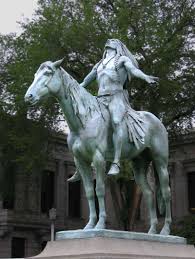 The Happy Hunting Grounds was a place, as I understood it, to which some of the Indians went after they died where there was plenty of game to hunt and feasts to enjoy. It was a place more akin to what they knew on earth unlike heaven which some Christians believe in which seems more refined with everyone dressed in white and existing without sustenance.
I would like to explain first my use of the term Indian. It is not done in any negative or demeaning manner. The people I grew up to know as Indians were noble people to be admired for their bravery and skills. As a boy in the 7th grade riding on the trolley each school day I eagerly looked forward to seeing the Indian sculpture outside the Museum of Fine Arts show here. For a while under the subtle tut tut pressure from the PC crowd I started to call them Native Americans. I then did a little research on the issue; I found many full-blooded Indians had no objection to being called Indian recognizing it is not intended to denigrate them in any means. Here and here and here.  I suppose the U.S. Government Department of Indian Affairs having kept that name adds to my comfort using it.
Sorry for my digression. I was motivated to write this post as I was thinking of the article I wrote about the Boston Public Schools. My sense of that school system is except for Boston Latin School and one or two others, the goal of education in the public schools is to provide a similar education for all its children. It is a foolhardy goal for it dumbs everything down.
It reminded me of a quote I will use in my next book. It is: "Communism is inequality, but not as Property is. Property is exploitation of the weak by the strong. Communism is exploitation of the strong by the weak. . . . In communism inequality comes from placing mediocrity on the level of excellence." 
Anarchist, communists, socialists are all on the left extreme. When you read the ideas of Senators Bernie Sanders and (speaking of Indians) Elizabeth Warren you can see how their approach to governing would be to drag everyone down; on the other hand on the extreme right you see the effects of unfettered capitalism where among the best, brightest, and hardest workers (success being 70% perspiration, 20% intelligence, 5% brass and 5% luck) lurk those who are highly enamored of themselves and care little about the little people.
Total equality and unfettered capitalism are both evils. The best society will recognize some are more intelligent and hard-working than others and would provide the means for them to achieve at their highest level. The best society will recognize that those who cannot do this through no fault of their own such as sickness, addiction, and learning disabilities have to have a minimum level of sustenance that allows them to exist in comfort.
It will not be accomplished by tearing down either the middle class or the rich; but it will be done by putting a greater burden on those who can more easily handle it.
I offer two simple examples of everyday injustices that should be adjusted by our society. A speeding ticket (or other violation of the law) has attached to it a specific penalty. Average man's (AV) yearly income is $50,000. Doing well man (DW) makes ten times that. Each are stopped for speeding and fined $5,000. Neither one has the connections to change it. AV will have suffered a loss of 10% of his income; DW's loss will be 1% of his. Why should one pay so much less and suffer so much more than the other for the same act?
AV and DW are married with 2 kids. The yearly cost to provide a family of four with basic groceries like milk, bread, fruit, vegetables, meat, fish and some snacks is $10,000. AV will have paid 20% of his income to survive while DW only 2%.
The ideal society would recognize this difference, make adjustments to narrow those differences, and what is gained from that narrowing use it to let those truly unable to help themselves to a better life. That is the happy hunting ground we should be aiming for.