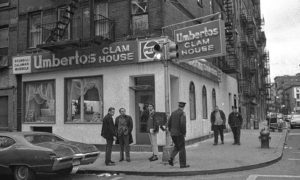 There are gangsters and there are hoodlums. There are hit men and there are bystanders. There are guys like Frank "The Irishman" Sheeran and guys like James "Whitey Bulger. One is a real killer and gangster; one is all hat and no cattle, well maybe he has a few goats running around.
I wrote about T.J.English who hopped on the bandwagon making Whitey into a super gangster by engaging in a lot of hyperbole – bodies washing up on Carson beach, people stuffed in 10 gallon drums, etc. The truth was Whitey was far from that which English should have known. I say that because at the end of his book he wrote an epilogue where he talked about Sheeran who was a real gangster.  I'm at a loss to figure out why it didn't occur to English that Whitey was in the junior varsity when it came to Sheeran. Maybe it did but he had thrown his lot in with the big bad Whitey crowd so he couldn't extricate himself.
Sheeran got up into his late seventies and being a Catholic after talking to a priest he knew if he had any chance of redemption he'd have to confess his sins. His way of doing it was not to carry any mysteries with him into the hereafter so along with Charles Brandt he wrote a book called "I Heard You Paint Houses." That was a gangster euphemism for hitting someone.
What's with these Catholic guys that they like to murder people yet still want to remain at peace with God.   John Martorano told us in his book, "It's my belief that good men can do bad things," like murder twenty people. He adds in case it wasn't noticed upstairs: "You may not believe this, but I'm a religious person. I've confessed my sins, and I believe I've been forgiven by God, if not everyone else."
I don't think Ralphie Veranis has forgiven him. Martorano and others ganged up on his brother Tony, pistol whipped him and shot him in the back of the head.  Why, because Tony who was a tough kid stood up to him.
Maybe Whitey also thinks he is a good guy. Although perhaps not. He is quoted as saying he'll meet the guy who prosecuted him in Hell. Maybe he'll be like Sheeran and write a tell all book in lieu of going to confession like Martorano.
Before I get back to the Irishman, I noticed that John "Sonny" Franzese, a reputed underboss of the Colombo crime family, was released from a Massachusetts prison hospital on Friday at age 100. You all heard of him I'm sure.  He once described his method of making bodies disappear, "Dismember victim in kiddie pool. Cook body parts in microwave. Stuff parts in garbage disposal. Be patient." Whitey certainly could have used some of his methods.
Franzese he was discharged from the Army in WWII due to his "homicidal tendencies."   Authorities believe he was responsible for the murders of 50 to 100 people. As for Franzese's own estimate, he killed too many to remember them all but was caught on tape saying, "I killed a lot of guys – you're not talking about four, five, six, ten."
The Irishman also served in the Army in WWII spending 411 days in combat. He told how that is where he learned to kill people. He was just following orders of Patton to kill as many as he could and to take no prisoners. At 6′, 4″ tall he turned into a killing machine.
Whitey did not kill anyone until he had gone past his 40th birthday. Most real gangsters start much younger. Sheeran was a hit man for both the Teamsters and the Mafia. It was estimated he murdered 25 to 30 people. He was Jimmy Hoffa the Teamster's leader strong arm man; he was the guy Russell Bufalino the head of the Bufalino crime family a Mafia connected group called in to do some favors.  One favor was having him murder Jimmy Hoffa; another he alleged murdering was Joey "Crazy Joe" Gallo at Umberto's Clam Bar.
He said he walked into that place dressed as a truck driver, went into the men's room, came out and shot Joey. Sort of like the scene in the Godfather where Michael Corleone goes into the men's room, comes out and murders the crooked police captain and Mafia leader Virgil "The Turk" Sollozzo, However, like all gangsters the facts give lie to his story. Joey's wife who was there when he was murdered said five guys came in with guns blazing.
Sheeran, like Martorano, was a real hitman. They did the murders with a handgun by themselves up close and personal for the most part being the trigger man if others were around. Whitey never did that. When he murdered Donny McGonagle which he claims he was with Billy O'Sullivan in one car and Donny was in another; when he killed Eddie Connors, Brian Halloran, and Michael Donohue he did so with a sub machine gun from a distance and had a partner also firing  a gun. He never did a hit by himself. Of the first thirteen murders Whitey was accused of doing, Martorano did ten of them, Tommy King did one, and it was not known who did another.
Of the last six, Flemmi murdered the two women but it was put on Whitey, he did Halloran and Donohue, and with Weeks, Nee, and Flemmi he murdered McIntyre and Barrett. He's just not in the same league as guys like Sheeran, Franzese, Martorano, or many others. He's far from being "one of the most murderous gangsters in the last half century."