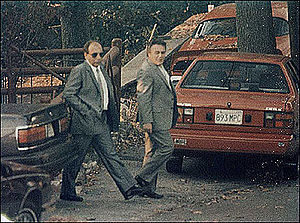 The reason I wrote yesterday about Freddie Wyshak and his actions in putting Steven Flemmi on the stand to testify to what was an obvious falsehood was spurred by the recent incident involving the indictment of Francis Salemme for murder of Steven A. DiSarrio.
Freddie Wyshak is handling this case as you might expect. But should he be? Freddie is the one who has already made deals with Francis Salemme for his testimony. Good deals. How about this one. "Hey, Frankie, you testify against a former FBI Agent John Connolly and we won't ask you any questions about your Mafia buddies and we'll do all we can to get your sentence reduced."
That's right – Salemme who was the head of a Mafia crime family taking over from the Patriarca father and son (pictured above) – got a deal from Freddie who would help him get out of prison early if he'd come in and make up some stuff about John Connolly. Freddie was not interested in any of the murders committed by the Mafia but wanted to get some evidence against this former FBI agent. Nor was Freddie interested in learning who it was who gunned Salemme down at the IHOP in Saugus.
The gross part of the deal was that while Salemme was confined in prison he met another Mafia guy who happened to be an FBI informant. He told this Mafia guy that he was coached by Freddie's investigators into giving the testimony they wanted and not what actually happened. He was given a book to read that spelled out the theory the prosecutor was following. After being coached he testified to these lies against Connolly.
It gets worse. It was obvious Salemme lied during his trial with Connolly and Freddie would subsequently charge him with lying. He would again make a deal with him so that he got a slap on his hand for this false testimony. Freddie has a half-dozen murderers out on the street with his sweetheart deals.
I thought it would present some sort of conflict for a guy to have a relationship with one guy and to be prosecuting the same guy. We already saw how it happened when Salemme got one deal, lied, and then got another deal. Freddie is involved in undermining the justice system since he is prosecuting a guy who has done him favors so he has to return the favors to him.
You see the major problem that exists in using these murderers as witnesses is that they lie all the time. They lie for one purpose which is to benefit themselves. They have no interest in telling the truth; all they want is to please the prosecutor who can give them a deal. They then get on the stand for the federal prosecutors and lie again. The biggest lie they tell is that they are then going to tell the truth because they fear if they lie they will be charged with perjury for doing it. That's the biggest lie because they know if that happened the prosecutor would have to try the case over again and that is the last thing he would want to do. They know they can lie with impunity as long as they tell the lies they have already told to please the prosecutor.
Freddie now finds himself in a real dilemma. According to the story here  Robert DeLuca a Mafia captain who in 2011 made a deal with the federal prosecutors so he only did one day in jail on an extortion charge (can you believe a Mafia guy got only a day in jail) is believed to have lied when he made the deal. He allegedly did not tell them he knew who murdered DiSarrio and that he helped bury him.
Again DeLuca, 71, has again made a deal. He pled guilty to obstruction of justice and lying to the federals in exchange for testifying against Frankie Salemme. Frankie is 83 and he will die in prison like Whitey and John Connolly. Freddie is handling the case. He told the judge who used to work with him in the prosecutor's office about DeLuca only spending a day in jail because he cooperated against fellow mobsters and denied any involvement in murder or other violent crimes. He went on to say: "That would, of course, not have happened if Mr. DeLuca was truthful"
First off the bat for a federal prosecutor to suggest he believed a Mafia captain had no involvement in murder or other violent crimes has to make you scratch your head and ask what bag has he been living in. Second, he has a guy who has already lied to get a deal getting another deal. We know that because he would not have pleaded guilty and agreed to testify if he didn't. How does Freddy know he is not lying again? How can he continually be prosecuting guys who were witnesses for him by using guys who have already lied?
Is there anyone who can protect us against this foolishness? Doesn't this undermine all his prior prosecutions?