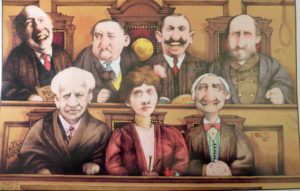 James Whitey Bulger was made into a very  notorious criminal. The Boston Globe had it on June 25, 2011, in a headline that he was "Back in the town he terrorized." Howie Carr had it about Whitey and his brother Bill on the cover of his 2006 book "how they terrorized and corrupted Boston for a quarter century." Alan Dershowitz of  Virginia Giuffre fame, wrote that there was a case of "mass murder and massive corruption" and that Bill Bulger should have been indicted for extortion and taking bribes.
Dershowitz condemned Bill Bulger around the time when he was buddy-buddy with the notorious pedophile Jeffrey Epstein. According to Virginia Giuffre, who had become one of Epstein's sex toys, who along with other young girls was given out to old men to be abused, she was given out to Dershowitz. It is almost beyond belief that while Dershowitz was involved with Epstein and his ilk he not only goes after Bulger, but he publicly questioned the integrity of "the Dukakises, Whites, McCormacks, Cardinal Laws, O'Sullivans, Welds, Moakleys, and Silbers."  He said they facilitated the terror campaign imagined by Howie Carr.
What do Howie Carr and Alan Dershowitz have in common? They both are very big supporters of  Trump. They have been with him at Mar a Largo. Virginia testified that Epstein told her Trump was a good friend of his.
The publicity given to Whitey by hateful people which is way out of proportion to his criminal actions produced these wild stories of terrorizing Boston. The truth is outside of South Boston probably 99.9% of the people of Boston never heard of him. Whitey terrorized much less than 50 people. As for his brother Bill, despite the big lie of Carr, he terrorized no one. He served in public service for over 35 years and was never close to being charged with a crime. This despite a prominent Boston Globe staffer urging his friend at the FBI, Supervisor John Morris, not to shut down an investigation of him after being told there was no crime involved.
How does one go about to prove that much of what was said and written about Whitey is an ex post facto creation whereby present knowledge is assumed to have been known many years before? We do know that prior to 1998 a tiny few knew of the extent of Whitey's criminality? The Boston Globe did a Spotlight series on him in 1988 yet did not portray him as terrorizing anything.  When he was indicted in 1995 there was no allegation that he murdered or terrorized anyone. He was absent from Boston from late 1994 until 2011.
The great publicity about Whitey's evil which came out around the year 2000 tainted anyone who associated with him. His brother Bill was said to know these things as if Whitey would discuss them with him. His FBI handler John Connolly was said to know them. People came to believe that what they knew in the year 2000 was known widely known prior to 1990.
There is no doubt Whitey was highly evil with his murders and extortion. These were only disclosed when those far worse than him talked in 1998 and afterwards. For the most part they made him part of their crimes to be relieved of their punishment for them.
You know what a voir dire of a person is? It happens when a person is called to serve on a jury. It is done to determined if the person has any biases or prejudices that would prevent him or her from sitting on a case as a juror. It is done in almost all cases in some instances quickly and in others in greater detail.
I mentioned voir dire because of the extensive publicity given to Whitey Bulger. It seems fair to suggest people who read the newspapers or watch television, especially if they are in the justice system, will have formed a very negative opinion about him and his associates. That would not come from any evidence but from the media  reporting.
Therefore doesn't it follow that an appeals court judge like any other human would be affected by this. Why then are they allowed to decide cases without first having to go through a voir dire?  How could those judges deeply immersed in the publicity against Whitey, his brother, and his handler decide whether his handler was given a fair trial. Should not appeals in cases that receive extreme publicity be transferred to other appeal courts to get impartial judges?
When a court approaches a case where it has been prejudiced by the media as well as having heard some of the matters involving the parties beforehand it will of necessity be tainted. It reminds me of serving on a special court martial in the Marine Corps at Atsugi in Japan. The lieutenant colonel in charge of the five-member court of which I was the junior officer said: "Bring in the guilty bastard and let's give him a fair trial."
How will one be given a fair hearing when the minds are made up beforehand? What the court of appeals in Boston did was to write an opinion confirming its preexisting belief and twisting the evidence to support it. The case I write about is United States v. John J. Connolly, Jr. denying his motion for a new trial.
The next two weeks from Monday to Friday I will be writing about John Durham and his connection to the case of retired FBI Agent John Connolly. As part of that I will show the mindset of the Appeals Court from its own words.