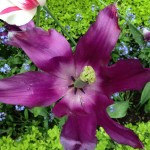 Not much to talk about now because there is a lot I have to digest.  I'm really enlightened by the testimony I heard today from James Katz.  I'll write a lot more about it.
After Katz got off the stand Richard O'Brien age 84 began his testimony. He went into business in 1953 with his father who was a bookmaker. From all appearances he may still be in business because when he moved to Florida in 1992 or 1993 he kept his business and turned it over to his daughter, whose name is Tara.
He was picked up with John Martorano in a wiretap by the Plymouth DA Bill O'Malley in 1978.  Both he and Martorano were incarcerated in Plymouth House of Corrections. That was the wiretap that Massachusetts State Trooper John Naimovich actually worked in one of the bookmaking offices. It was also the wiretap where Massachusetts State Trooper Richard Schneiderhan gave Stevie Flemmi the information that during the wiretap the cops were not following the minimization order of the court which allowed both Martorano and O'Brien to get lighter sentences. When they were in jail Martorano told O'Brien he was going to be indicted in the race fixing case and he'd be leaving the area.
O'Brien continued in business and didn't meet Martorano again until he had settled in Florida. O'Brien's wife was at a PTA meeting and met Martorano there and brought him home to meet his old friend Dickie.
O'Brien told how Stevie Flemmi went to a meeting with him in Florida and how he had to insure him in front of John that he was a stand up guy. What's good about O'Brien is he talks like a man who has been in the bookie business for many years. He has the salesman type of personality that makes one want to believe what he is pitching. For instance he was asked about meeting with Larry Baione of the Mafia after he had met with "Mr. Patriarca" of Rhode Island. Asked what Larry's reputation was, he said he was known to be "a very capable man." Asked what that meant, he replied, "he might straighten out a problem."
Asked about the reputation of Whitey and Stevie he said "they were very capable."  He told about a meeting at a motel in Braintree with Whitey, John Matorano, one of his agents who was on make-up (when an agent has a losing week the office advances money to him to pay the betters and the agent has to make up that money back to the office – O'Brien was the office) who was avoiding him named George Labate, and himself.  Now understand, this old guy Dickie O'Brien has this meeting because he wants to have Whitey and John Martorano straighten out his problem so he's not such a nice guy himself.
Anyway, Whitey tells Labate that Dickie's been square with him so he's got to go back and work for Dickie until he makes up all the money he owes him. He then, according to Dickie, says "you know George, we're in the business besides bookmaking."  He explained, "It's the business of killing assholes like you."
He went on to tell how he's been paying rent for 14 years to Whitey and Stevie. He said he sometimes paid it to them through Kevin O'Neill which he preferred to do. He said he'd rather listen to what O'Neill said than to listen to Stevie Flemmi because "he wasn't a happy person."  Whenever he went to pay Whitey or Stevie, once a month, he'd put the money on a table or hand it to Stevie. He said Whitey never took the money. He said he figured Whitey didn't want to do it because Whitey figured it couldn't be used as evidence against him in the future. A smile crossed his face as he said it indicating his pleasure at hooking Whitey into this.
I'll need time to put all this together so I thought I'd give a quick brief overview.  Dickie's yet to be cross-examined so we'll learn about that on Monday. I thought today was not going be much but since I have a history with these bookies Jimmy Katz solved some mysteries for me. I am absolutely intrigued by the happenings.
You may remember I got involved in all this because I went to the John Connolly trial to find out if I could learn more about Naimovich's being investigated by the FBI and indicted by prosecutor O'Sullivan. I told in my book Don't Embarrass The Family how my quest to find out answers wasn't that successful. The last thing I thought was that "The Sniffs" testimony would be of great assistance in confirming my deeply held suspicions. There's a whole other story here that few know about. I'll post more on this over the weekend or early next week.
PS: Someone asked me why the people called Jimmy Katz by the cognomen "Jimmy the Sniff." Prior to today I'd have said I didn't know. But watching him testify I notice he has a habit of sniffing his nose. There's the answer.  Another mystery solved.