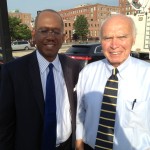 By next Friday we will see the end of the prosecution case if things go according to plan. That means there will be one major witness left. This is Benji Ditchman. I'm not sure how Carney will handle him. Will he go into his relationship with the two women or will he stay away from the murders like he did with Weeks. As things stand now Whitey is locked in tight to those murders because there has not even been a hint from defense counsel that he had nothing to do with them.
Weeks may live a life of lies, may be a hot head, and had all the incentive in the world to please the prosecutors but he did say there were three bodies buried across from Florian Hall in Dorchester and the digging team found three bodies where he said they would be. Maybe he lies about some things but he surely didn't lie about these (or the other bodies). It's the bodies that hang like an albatross around Whitey's neck and something must be done to untie them unless Whitey is interested in having them as companions as he goes down to Davy Jones's locker.
Because Carney did not go after Weeks in any manner in respect to the murders, I reasoned that having gone through the 31 other times Weeks had testified he felt that Weeks could not have been damaged much on them and that since Whitey would testify he shouldn't have Weeks emphasize them. But it seemed to me that the complete avoidance of them, after all it is the Tyrannosaurus rex that's plunked down in the middle of the courtroom, wasn't smart. Even a little damage to Weeks, like leaving the suggestion that it was Nee rather than Whitey who helped bury the bodies might have been helpful but that wasn't done. Ignoring them like one would do with a hangover headache will not make them disappear
When Benji Ditchman testifies about his murder with Irish Whitey I hope Carney doesn't pull the same routine. But I really don't know what he will do with Benji. That's what will make next week fascinating.
Aside from that little else is going to play into the big picture in this case. Today the one thing that may be of interest is to see if the ubiquitous Steve Davis can control himself when testifying about his sister. I figured yesterday that Carney dragged out FBI Agent Daly's testimony in order to keep him off the stand immediately after the photographs of Debbie's decomposed body and skull were shown. I don't know about you but that's something I never could have sat through.
The rest of today will see one of the people who Whitey had dealing drugs for him like Paul "Polecat" Moore who has been "relocated" and then other people (Lindholm, Accardo, and Hayes) who Whitey extorted money from by threatening their lives. The extortion and the drug dealings are not being contested because defense will argue that Whitey had the government OK to do those things so there may be little cross-examination of them
One other bit of testimony today that could turn into something of interest will be that of retired FBI Agent Gerald Montanari who was one of the few agents who wanted to bring Whitey's reign to an end. He was the agent who along with his partner Leo Brunnick handled Brian Halloran just before he was murdered. He was able to continue the investigation after the murder because Halloran had tied both Irish Whitey and Benji Ditchman into it.
I don't know if he will get into it today but he stayed with the investigation until Connolly complained that his informant, Irish Whitey, was being investigated and he had the right to know what was going on. There was then a big meeting in Washington, DC with the FBI head of the organized crime investigations. Attending the meeting was Montanari, ASAC Fitzpatrick  (on the defendant's witness list) and Connolly. The outcome of the meeting was that in the future Montinari would keep Connolly advised of what he was doing and Connolly would keep Irish Whitey and Benji Ditchman informed and get feed back from them.
I'm serious. The FBI decided that two major criminals, who also happened to be top echelon informants, who were being investigated for their involvement in the murder of a prominent businessman, Roger Wheeler, were to be kept informed of the progress of the investigation against them. Put that in context of the recent news out of DC that Congress could not be informed about the investigation into the Marathon Terrorist Attack