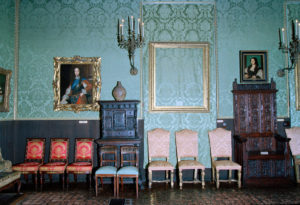 Keep in mind this is 1990 and Agent John Connolly is still in the FBI office with three of his informants being top-level informants: Whitey Bulger,  Stevie Flemmi and another being in the Mafia, Sonny Mercurio. Most agents knew Connolly had these people as informants. He would have reached out to them for help in solving the break. With all their contacts they said they knew nothing at the time. It was obvious later they had no idea who pulled the heist. We know Flemmi and all his criminal buddies later cooperated with the FBI to get good deals. If none of the criminals who should know what was happening did not know that should have been a neon sign telling the FBI it was not a heist by locals.  But remember a U.S. senator would call this office at that time the most dysfunctional in the United States.
Not all FBI agents were acting obtusely. In Washington,D.C., Lynne Richardson who managed the FBI's National Stolen Art File was reported to believe the Gardner robbery was unique in American history. She said, as I did, it involved planning, disguises and deception although I would add "daring." She said: "This is the way they rob museums in Europe, not the United States. So the [paintings] could be right there or on the way across the ocean."
The FBI Way of Investigating:
The FBI usually gets its informants, outside the Top Echelon Informant Program, by getting someone who has been caught involved in some nefarious criminal activities and offering him a deal if he cooperates.  In other words a criminal can save his butt if he gives up someone else's butt.Or he can save his butt by returning something of value he has stolen. That is why I say if you plan to commit a federal crime do it with others so if you are caught you can offer them up as bargaining chips.
Depending on how jammed in a person is will determine the level of cooperation. Some will agree just to provide information on the condition their identity is kept secret in exchange  for a reduced prison term. Others, the thieves, will return part of their booty; murderers will show the bodies of their victims to get reduced sentences. These criminals instinctively understand all cops like to recover things and get the publicity attendant to it.
As you can imagine in the Gardner situation the FBI had oodles of people offering to give it some information in exchange for some deal. A huge amount of valuable time was wasted dealing with these people would never met a professional art thief. They operated in different circles. This seemed not to occur to the FBI. It continued to look for information from street felons.
In late 1997 an FBI agent named Dan Falzon who had been assigned to the Gardner Museum case from the beginning said: "With all the people we know in and out of prison, we've never got a quality piece of information that indicates this is it, this is who did it. We've had everybody and his brother say they know who did it, and none of it has led to anyone going to prison or any art going back on the wall."
The same situation attains to this very date.
Despite this the FBI has fastened upon the idea that some low life was involved in stealing the high life art work. What gives lie to such belief is the most common of understandings among any detective who ever dealt with a real criminal is that no criminal will do time if he can swap something to stay on the street. The easiest thing to swap would be something stolen from the Gardner Museum. It has no value to anyone who is a low life. If it were stolen by one of these life time criminals he would realize it could not be sold or fenced. There are no buyers. It is too hot. Its only value is as a "get out of jail" or a "do less time" card.
FBI agent Kelly being wrong when he says the heist was the work of amateurs adds confusion when he states about these amateurs that it would have been "highly probable the thieves had no idea of the magnitude of their crime until they woke up the next morning and realized they had committed the "heist of the century."