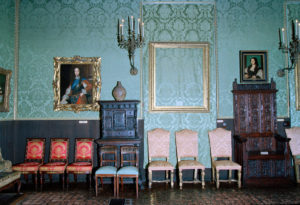 Al then tells us he started to figure out who did it by seeing similarities between it and an earlier art theft where the painting was cut from the frame even thought the earlier one was in 1966. He says first of all it is clear to him the Isabella Stewart Gardner Museum thieves had "inside" information. He notes they knew of guard's panic button, the entrance tapes, a location to place and hold guards, knew one painting was on a hidden door, and what "red herrings" to leave. (I differ from him on this. I believe professional art thieves could easily have learned these things.)
Al suggests the inside information came from Rollin Van Nostrand "Bump" Hadley who was administrator of the museum from 1963 to 1970 and director from 1970 to 1988. Hadley died of a heart attack at his home in Fort Lauderdale at age 64 within two years following the robbery. Al said Bump refused the FBI's request to provide it with a "list of his friends, art lovers, visitors, etc." who he entertained in and about the museum during dinners and after hour gatherings.
Al called Bump a party animal, did not suggest he had anything to do with the theft, who might have unwittingly provided access to the museum or had loose lips in his dealings with people who were lovers of the arts. Bump had many dinners and other affairs at the Gardner even in the evening that allowed others the opportunity to case it. He suggests a person skilled in extracting information from another could have gotten all he needed from unwary Bump. (A fault with this theory is Bump retired two years before the heist and no clever thieves would depend on information that was stale.)
Al also figured the persons involved had to have knowledge of computers which would leave out much of the lay-abouts the FBI rousted. This, he suggests, shows a Harvard/M.I.T. connection at a time when computers were coming out of their infancy and the hacker was king. Al then starts out to find out more about computers by looking up some old friends.
In the meantime he's keeping in mind the 1994 letters that came from New York with a phony West Side address. They involved a demand of $2.6 million to return the paintings and immunity from prosecution. Al's theory is non-career criminals committed the act for insurance proceeds. (Mine is skilled criminals from Europe for an art collector. The FBI some criminal muffs blundering along. If FBI is right kiss the paintings goodbye and it should stop looking.)
Now to the nub of Al's story. He is in New York in 1998 and is reading the obits. He reads about  a "New York heiress" living in a long lease apartment in the hotel across the street from where he was staying died in tragic circumstances. She was a patron of and great collector of the arts. Al happened to know the doorman at the hotel who doesn't tell him much but sends him off to Billy Bob the house engineer a guy from Fall River who tells him the much-loved heiress was probably thrown off the 15th floor because she was worth between 50 to 150 million by her husband (SOB)  a "slimy bastard." SOB is a top-notch violinist who sometimes substitutes for the first violinist at the Met. Al then tells us the mean SOB's "marriage to" the heiress "was concluded in 1992 after a long friendship." (At first I thought he meant they were divorced.) The SOB  brought from his previous two marriages a son and two nephews, she brought three children.
Al then turns to David Turner who I mentioned before who got the big bit in prison. I discounted him because of that. Al initially thinks Turner may have murdered the heiress but later he concludes he would have not done the big time if he had the paintings. (Why Al, who recognizes the foibles of the FBI, would think Turner under any circumstance escapes me.)
Al eventually eliminates the gangsters dealing cocaine from TRC in Dorchester. He follows the Bump Haley trail. Bump likes to party on the Cape. So did the heiress and the SOB. Figures they met and they became friendly. Ties the ends of the string together by corroborating his theory with an Irish artist also from the Cape.