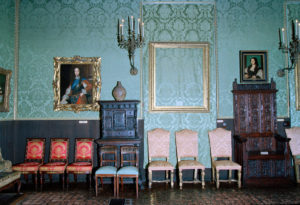 A day or two later Raymond found a grand jury subpoena in his hand. He went before the grand jury, denied he ever said he was the mayor's bag man or that he brought cash to him. He was indicted for perjury. In the eyes of the FBI a drunk's tale was worthy of belief.
So the FBI's last hope is Gentile who knows nothing about the art work. Once he kicks the bucket the only ones left alive will be Myles Connor who is still playing the Donati/Houghton story and Turner who will have to come up with something to get another sentence reduction.
But no art work has been recovered, no art work has been seen, and the FBI is at a dead-end because early on it made a wrong turn as it is apt to do when it relies on informant stories and fails to look at the evidence staring them in the face.
The Story in the Package: 
I told you what I thought. Professional job, well cased, and buyer lined up before hand. No usual gangsters involved.
Here is another theory that is close to mine and far away from that of the FBI's,
This is the story that was sent to me at my post office box #9, 02574. But before I go on I must warn you that what I am going to tell is a very bare bones outline of what is contained in over 100 pages of an intriguing, clever, and interesting tale. I am afraid in presenting this truncated version I will not do justice to the full story which contains substantial facts that are used to support the conclusions. For that I apologize but space is tight. Those interested in reading the full story will have to hope the author arranges for it to be published or that some other arrangements can be made.
It begins with a visit last year. A highly successful lawyer from Boston visiting in Sanibel arranged a meeting at a pool side at one of those ubiquitous Gulf front condos in Florida with a person, who I originally took to be a swamp Yankee but who later identifies himself as having Irish Russian heritage, who is a  self-proclaimed artist skilled in tracking people, called Al.
The lawyer tells Al how his "Brahmin friends" are at their wit's end and willing to spend any amount of money to get back the art work stolen from the Gardner museum. They want to hire Al. He declines the offer saying he knows who stole the paintings but does not know where they are then located. Al suggests he figured this out a while ago because like those Brahmin he too has a great attachment to the Gardner museum from his youth.
Al starts off noting how sometimes the most obvious solution to a crime stares one in the face but it is overlooked. He (like I) noted the FBI has gone down many blind alleys because it relies on its connections with the underworld. He said at the end it "was forced into casting the blame on the old boogeyman . . . the mafia." It settled on this because one of the robbers was said to have "squinty eyes." Al found it mysterious that the FBI did not rely on "their well known, time-honored profile i.e., someone ratting, . . . " (As I've noted that is just the other side of the informant coin.) He mentions the contact with the FBI by letter in 1994 and how nothing came of it because the FBI did not cooperate in good faith. (Hard to say why that letter came to nothing. Someone could have been pulling FBI's leg.)
Al noted, as I have, the FBI's conclusion the theft was carried out by "petty thieves" and "not done by experienced criminals" and was "messy and ineffectual." He too finds that error. He suggests it was a well planned robbery involving two vehicles (one van to take the paintings) and four people, two standing watch outside with walkie-talkies, the tampering with the alarm system by a computer expert, etc.