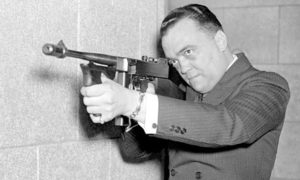 To understand how the FBI's investigation of the Gardner theft has gone so amok you must know a few basic truths about these professional criminals which the FBI would have learned had it had a few street-type people in its midst.
First, No one is going to do a heavy bit if he can avoid it by giving up something or someone. The FBI in its every day dealings puts the screws to captured hoodlums. It tells them they can get a break if they cooperate. Somehow, though, it does not accept this as a universal principle. Second, the more criminals that know about a crime the greater the likelihood of discover. Third, a low life criminal's stock in trade is lies and cons. They are expert at it because being a good liar is often necessary to survival in that life. Nothing one of that ilk's statements should be believed without substantial corroboration.
Those are the three fundamental understandings any FBI agent who deals with life long criminals must understand.
There are specific things that should have been obvious to the FBI from the first day it entered into its investigation of the Gardner heist. First, the Gardner was hit by people who had a specific goals – the items taken were not taken willy-nilly but were selected even though one or two were taken to throw off the hounds. Second, no one hits an art museum aiming for select items without having a fence lined up to get rid of them. Finally, the job was done by professional art thieves not drug dealers or bank robbers or run-of-the-mill hoodlums.
Look at it this way. Had it been done by amateurs they would have quickly learned there was no way to get rid of the art. It was too hot for anyone to take. The only use for the art they would be to incriminate the thieves.  They would have destroyed them by burning or into a landfill.
**********
Let's examine the history of the Gardner theft which took place on March 18, 1990. Here is a fine article written seven and a half years after the event. It is called "The Great Art Caper." It includes statements from the FBI agent, Dan Falzon, who had been assigned to the case from the beginning.
Agent Falzon knows what he is talking about. He spells out some of the different possible reasons for the heist.  He then adds: "With all the people we know in and out of prison, we've never got a quality piece of information that indicates this is it, this is who did it. We've had everybody and his brother say they know who did it, and none of it has led to anyone's going to prison or any of the art going back on the walls."
Nothing has changed since that time. What the FBI knew then it knows now. Only it has forgotten what it was told then and has gone off on a wild goose chase courtesy of the one real art thief Myles Connor it relied on to give it some information.
The article mentioned tells about Myles Connor Boston's infamous art thief. He immediately comes under suspicion of being involved in it the robbery because he has stolen art work in the past. He ineptly got grabbed by the FBI trying to sell some so he stole others and used them as a bargaining chip to get a deal on his original case.
Connor at the time of the Gardner job has a good alibi that eliminates him as the thief. He is in prison. When in desperation he is approached by the FBI seeking information he avers he knows who did the heist. He names Bobby Donati and David Houghton two hoodlums he knows.
He then says something that should have cast serious doubt on what he was saying. Then the article notes:"Connor says Donati, who, he assumes, hired two mugs to actually carry out the theft, initially intended to use the loot as a bargaining chip, though he won't say for what."  (continued tomorrow)