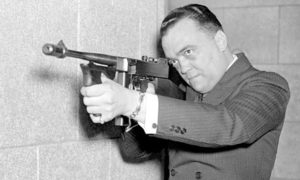 Connor is smart enough to know the MO of Donati and Houghton  was not art robbery so suggesting that they did it was a non starter. Connor also knows that there is no way he can be contradicted. Both Donati and Houghton are dead at the time he gives out their names. Then, the only reason he can say for them to do it is that they needed a bargaining chip, that was what Connor often needed, but had no idea for what.  Connor is trying to get something for his supposed knowledge; remember he is a con man, one of the best.
This tells me Connor is making up the whole story. If "two mugs" were hired by Donati that would add two wild cards to the story. Had they existed they would have been known by now and identified. Strangely, now get this, the story becomes warped and the "two mugs" will soon disappear from it and Donati and Houghton will become the actual thieves.
Keep in mind that FBI Agent Falzon knows all this. He is buying none of it. He said the FBI "never got a quality piece of information." 
Things change as time passes. Twenty-five years later the FBI under new  agents is still at work trying to solve the case. Here and here are articles on it.
The first one contradicts what was known 18 years earlier. There it has Donati and Houghton as the robbers even though Donati knows nothing about art; there it says they hung out at TRC in Dorchester and did the job because Carmelo Merlino said he had a buyer for the stuff overseas?
The article is self-contradictory. On one hand it suggests the thieves did not know what they were doing; on the other there is a buyer for the goods lined up. It makes no sense. To add to it, some retired babbling FBI agent is quoted as saying "they got the okay to pull it." Since when do you need an okay to rob an art museum?
Now look how absurd the situation has become. The article alleges many others know about the theft – Mafia guys Vinny Ferrara, Joe Russo, Frank Salemme – all guys who did long bits and never mentioned anything about the heist which they surely would have done to cut down their sentences.
The second article includes names of others who allegedly know about the art work like Charles Quintina who also did time and never mentioned the art. Had the Mafia anything to do with it then that would have been known by now.
We now venture into the world of guess-work. Merlino supposedly ends up with the art from Donati and Houghton. No one knows how this happened. People friendly with Merlino knew nothing about it.  Merlino would go to prison  and die there. Would that have happened if he knew by giving evidence on the art work, which had then become worthless, he could have avoided prison? Plus, if any of these hoodlums had any idea that would help the FBI there was a five million no question asked reward for the works recovery.
Unfortunately,  Connor's initial nonsense story had become the path the FBI was running on. It was a wrong turn. The FBI closed its eyes to the many signs that told it to turn back. Meanwhile the true thieves have gone on with their lives enjoying the comedy.
Merlino gives them nothing so the FBI looks at Merlino's friends and assumes he gave the art to them. One of them is Robert Guarente who was buddies with Robert Gentile. They worked for Robert Luisi, Jr. The FBI at a dead end believes these three Bobs must know somethin' although they don't say nothin'.
This is the point what I have always called in an investigation the "target of convenience."  I've seen investigators arrive at it before. They have nothing but in desperation leap on to anything and then justify the leap going backwards. Once case involved a young woman who was found murdered in a sand pit in Wrentham. When news went out about the discovery a guy came forward to say the description of the woman seemed to fit one he had picked up thumbing a couple days earlier on 495. He gave her a ride to Worcester. With nothing else to go on that guy became a suspect. It turned out  he had nothing to do with it but there were some who insisted otherwise. (continued tomorrow)