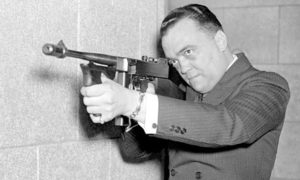 FBI convinces itself that Guarente got the art from Merlino and he gave it to Luisi. Luisi denies ever seeing the art but says Guarente told him he buried it under a concrete floor in Florida. Luisi did time and is now born again; Guarente did time and died in prison; that leaves Gentile, 80 years old.
Keep in mind this is all pure conjecture based on Myles Connor speculation as to who committed the heist. Not one piece of physical evidence supports the theory. It is all hearsay of one gangster telling what he heard another gangster tell; or even an undercover FBI agent listening to a gangster in his cups,
How bad does it get. Here's a May 2016 report: "FBI agents Monday were at the home of gangster Robert "Bobby the Cook" Gentile, the top person of interest in the quarter-century effort to recover masterpieces stolen from Boston's Isabella Stewart Gardner Museum. Agents set up a tent in the front yard of the Frances Drive home, where they have previously spent time digging. . . .  Agents arrived in about 15 cars, with two search dogs and three trucks with heavy equipment. . . .  By midafternoon, agents focused their attention on the west side of the house near the chimney. They tore what appeared to be a vent pipe off the side of the house and pulled off part of the siding. They also began digging on the lawn near the base of the chimney with shovels and rakes."
Gentile is in prison awaiting trial. The FBI is trying to squeeze him for information on the art. He denies he has any. Do you think he wants to be locked up if he had a chance to get out?
As you can see from a Myles Connor fantasy the FBI created their own Gardner Wonderland and like Alice in her Wonderland has wandered about chasing after rumors believing some local hoodlums did the job. Their theory depends upon a dozen or more people having information about the art but preferring to do heavy time rather than talk about it.
Connor knows you grab art work to use it as a bargaining chip to keep yourself out of prison. Any street guy would tell you that you don't do time if you have something to keep you out. The FBI by going down the route it has been following has about as much chance of getting the Gardner art work back as waiting for the next rainbow and finding the art work at its end.
There are much better suspects out there. I've been told of a couple or three. Too bad the FBI isn't interested. One reason is it has already announced it knows who did the robbery. To go back would be embarrassing and the FBI would rather be wrong than embarrassed.
Before the FBI starts digging under concrete floors in Florida it needs to accept one thing: if these hoodlums had possession of the art work it is ruined by now if all the rumors of how it was stored and bandied about are true. If that is the case why continue to search.
The FBI must go back and start all over although I would suggest it is twenty years too late to do it. It should look at the case as involving professional thieves who specialized in taking specific art pieces for a people ready to buy them.
The FBI's problem is it is a lazy group that relies too much on informants and cooperating witnesses who it squeezes for information and extracts it through duress. Its method is to tell them "give me something on someone and I'll give you a break."
Substantially uncorroborated Informants are notoriously unreliable. They are often worse than the people they give evidence against. Using them creates the kind of chaos we have seen in its investigation of the Gardner robbery.  It  can do better; it must do better.