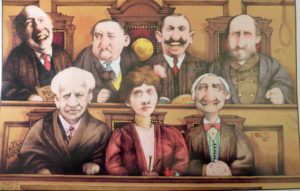 When I wrote about the part where Gertner was correct I noted how Joe Barboza the FBI cooperating witness kept his friend Jimmy Flemmi who was part of the Teddy Deegan murder out of it. He substituted other people who were involved in the planning and at the scene instead. Various reasons have been offered for him doing that but I'd suggest the true reasons as to why he included Joe Salvati and Louie Greco may never be known. If I had to guess he probably just didn't like Salvati [Frank Salemme had a great dislike for him]; but had some type of grudge against Greco. There was street talk that Greco stood up to him when he was giving another guy a hard time.
Judge Gertner found that they were not involved in the murder.  She based that on the idea that Barboza was willing to perjure himself as to Greco and Salvati then his testimony as to others, such as Henry Tameleo and Peter Limone, must also be wrong. In her decision she takes a very narrow view of the evidence; she ignores what is commonly known about the way the Mafia operates.
There are several charts of the Mafia in the Boston area that were in existence around the time of the Teddy Deegan murder on March 12, 1965. They all show Raymond Patriarca as the boss, Gerry Angiulo as the underboss, Henry Tameleo as Patriaca's right hand man and Peter Limone as a member of it.
Here is one thing we know for sure from an illegal FBI intercept of Raymond Patriarca. Deegan would not have been murdered without seeking his prior permission. To get that permission the FBI "wire had captured Barboza  and Jimmy Flemmi seeking Patriarca's permission to murder Teddy Deegan on March 9, 1965″ This was three days before his murder. This is hugely significant in analyzing the murder. Two guys with reputations for murdering people went to the boss to ask his permission.
Much is made of the fact by Judge Gertner that Barboza did not mention this and did not tie Raymond Patriarca into the Deegan murder. The reason which seems obvious. Patriarca did not give them permission to murder Deegan,  During that conversation with Patriarca, Flemmi called Deegan "an arrogant, nasty sneak" who "should be killed." Patriarca, according to Judge Gertner, "told them to collect more information on Deegan and then to contact Angiulo who would give them a final answer." 
How would Barboza implicate Patriarca? Patriarca washed his hands of the matter. He passed the buck. If they wanted to murder Deegan they needed permission from Gerry Angiulo the underboss.
Gerner would write: "he [Barboza] falsely substituted Limone and Tameleo for Patriarca as approving and/or initiating the hit." That is clearly wrong because as just explained Patriarca never approved the hit.
Barboza said that he did the hit on Deegan because around January 25, 1965, Limone asked him to do it for "the office" which was the way people referred to the Cosa Nostra or Mafia. He testified they wanted him hit because he had robbed Puopolo's house, he was involved in the October 17, 1964, murder of Sacramone, and he caused trouble at the Ebb Tide where Henry Tameleo hung out.
Gertner suggests that could never have happened because FBI intercepts showed that on October 20, 1964, three days after Sacramone's murder, Limone warned Deegan that Flemmi was out to murder him. That may have been the case but perhaps Limone did not know Deegan was in on Sacramone's murder at that time or the passage of time changed the Mafia's view of Deegan as it often does among these criminals.
What we know in truth it that Deegan could not have been murdered without the approval of Angiulo. Barboza testified that after Limone asked him to do the hit he said he would check with Tameleo and remained in contact with him throughout that time. Gertner well knew that would have been the way to do it. Her decision read as if Patriarca told Barboza to get Angiulo's approval and then he just went ahead and did it. Things don't work that way in the Mafia.
Barboza was wrong in adding in Greco and Salvati, but there was no reason to doubt the involvement of Limone or Tameleo who were members of the Mafia and in positions to ask for the hit and approve it. The case was reviewed by the Massachusetts Supreme Judicial Court and the conviction of Limone and Tameleo was upheld in 1970. For a decision 37 years later to undermine it and to give tens of millions of dollars to two Mafia members under circumstances where the judge makes up her own version of what happened which contradicted the evidence did not serve justice.