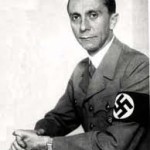 When I read a Boston Globe columnist tell us Whitey was involved in decades of terror in Boston and also newspapers throughout the world repeating those exact words, I accepted that the a complete evilification of Whitey had been accomplished. I recognized this much earlier with his arrest and the extraordinary coverage by the media of his trial events but the universal media bloating of his actions to terror, especially during these War on Terror days, and their extension in time (decades) and area (Boston) seemed reminiscent of Bush's "Mission Accomplished."
We are supposed to accept that as a final verdict in history but as with George 43 perhaps it was a premature boast. When we lift the curtain of hoopla and self-congratulation, we espy the truth: Whitey terrorized a couple of handfuls, usually fellow criminals. Those much worse than him were hardly recognized for their evil ways.
On the relative scale of Boston criminality in the last third of the 20th Century, two persons from Whitey's group, the group that operated out of Winter Hill in Somerville, who were used by the U.S. Attorney in Boston to testify against Whitey by any objective standard were grossly more evil. Up to the time Whitey met John Martorano he had been involved in 1 murder, Martorano had admitted to being involved in 8. Steven Flemmi, when he met Whitey, had already been involved in 13.
Under out laws you can be involved in a murder in several ways. You can be part of the planning group as an accessory before the murder like leaving a door open so the murderer can accomplish his deed; or part of the group carrying out the murder as driving the getaway car; or even a part of the group that works afterwards as hiding the body. The latter group is not punished in the same manner as the former groups whose members are punished in a similar manner to the person pulling the trigger. Though the punishment is equal for those in the pre-murder stage, the evilness differs since one who leaves the door open may not be capable of putting a .38 caliber pistol up to the head of the sleeping person and blowing her brains out. That takes a particularly malignant type.
John Martorano was uniquely capable of doing that. Whether strangers, co-criminals, legitimate business people, or friends, he fired bullets into their heads. Of his 20 admitted murders, he shot 13 unarmed people in the head from close range of less than 3' away; Whitey also had that capability and probably shot 4. Steven Flemmi, though capable of doing this, always seems to put the gun in another's hand to minimize his involvement.
Even so, he did the others one better. He had no problem killing women he had long-term relationship with either as a boyfriend who was being dropped or a step-father who was being embarrassed. That is a particularly macabre trait.
I'm not suggesting that Whitey was not highly evil, for he was, or I should say is. I'm not saying that because others were more evil that somehow mitigates Whitey's evilness, it doesn't. I'm asking you to consider why we have been duped into believing Whitey terrorized the City of Boston when no one even hints at that idea in relation to those more evil. And in saying this, I'm not even going into the  other group, the Boston Mafia, that likewise had men of Whitey's stature.
While speaking of the Mafia, I'd note not even in New York City where the Mafia had five families with thousands of members and controlled many legitimate businesses did anyone ever suggest it terrorized the Big Apple.
So what accounts for this fiction that betrayed the people of Boston into elevating Whitey into a status as criminal extraordinaire when he was really nothing more than a mean, vile, bullying type hoodlum who mainly preyed on people involved in criminal activities who came into South Boston, a section of the city with a little more than 5% of the people most of whom were law-abiding citizens.
Another way to look at this is that over fifty and upwards of sixty or seventy gangster-style murders took place in Greater Boston during the early to mid-Eighties. No one suggested Boston was terrorized at that time. By the way, Whitey was involved in none of them though Flemmi and Martorano were.
I ask you to think on that. Why has it been Whitey all the time and little about the evils of the others? How could the people be betrayed into forgetting about all the others while concentrating only on Whitey? What was the purpose of this deliberate betrayal and who was behind it?
I hope to examine this. If the people with an interest in these matters can be betrayed in this manner, it seem an apt study to determine how what Goebbles would describe "the big lie" can overtake a supposed intelligent population, including other media outlets. For if we understand how the propaganda was done and the forces behind it and their motives, perhaps we will be alert to not being duped in the future.