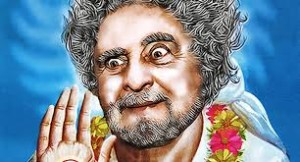 Some folk play around near the edge of a cliff and are wise enough not to get too close to it.  After all, they know, that what they are pouring out is pure bs but they like to do it because the rubes lap it up. Others start out tossing it out but get so wrapped up that they fall over the cliff onto the rocks below.
Those who stay away from the edge at night in the comfort of their homes they smile and say: "do you know those fools actually believe what I tell them." That's pretty much how the GOP is acting lately. None of the leaders or others outside the QAnon folk like that woman Greene really believe that Biden lost the last election. Didn't the minority leader Kevin McCarthy say: "I don't think anybody is questioning the legitimacy of the presidential election. I think that is all over with. We're sitting here with the president today. So from that point of view, I don't think that's a problem."
Yet there are those who privately do not question the legitimacy of Biden's election but are out on the campaign trail suggesting that Trump won and smiling to themselves when their credulous crowd thinks they are leveling with them. It's not a minority of Republicans that believe Trump is president. "The May 17-19 national poll found that 53% of Republicans believe Trump, their party's nominee, is the "true president."  Fortunately I do not believe anyone reading this blog believes that nonsense.
We know why the Republican senators and representatives in Congress go along with the falsehood that the election was stolen. They want to get reelected and a substantial group of Republicans who will vote still believe that falsehood put out by Donald Trump that he won so the elected officials go along with the charade.
Unfortunately, it turns out that some actually believe Biden should not be president and one of them happens to be a former Army lieutenant general, Mike Flynn who just destroyed any of the little remaining honor he had not already tainted by supporting the daffy QAnon people.
He not only believes Biden is a usurper but he is now, which is pretty shocking for a retired general officer, that perhaps we would be better off if we did not have a president elected by the people.  When I think of Flynn I worry that such an unbalanced person could have achieved such a high rank and actually have weaseled his way into becoming our National Security Advisor for less than a month. The only thing that explains that is his connection with Putin.
He wrote to Corey Lewandowski sharing a link to Russia's state-run Sputnik News that quoted Flynn saying the US must work with Russia and Arab countries to defeat the ISIS that: "I wanted to send this to you this past week but had forgotten." He went on to say, "Also, I met with President Putin last Thursday in Moscow. We actually sat at dinner together."
The news came out on May 30: "The Omni Dallas Hotel is hosting guests for a four-day QAnon conference called For God & Country Patriot Roundup which will feature prominent conservatives including former national security advisor Michael Flynn." Flynn was asked by a person in the audience during the time he was on stage: "I want to know why what happened in Myanmar can't happen here?"
I  assume you are all familiar with what happened in Myanmar where the Army arrested the elected leaders, took over running the country, and  gunned down  more than 700 civilians. In other words the questioner was asking whether the United States Army should do the same thing.
Flynn answered: "No reason. I mean, it should happen here."