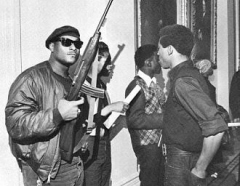 BBC hd an interview with a Black Lives Matter guy in Dallas. He belongs to some defense league. He says they are at war with the police because the police are at war with them. The BBC showed footage of a couple of dozen, maybe more, black men and women marching around carrying automatic rifles.  In Texas it is all right for a group to form a little military unit and parade on the public street carrying their arms.
The guy was talking of the right to overthrow the government when it becomes oppressive. He said they are up against the biggest gang in America, the American police, and have to be armed like the police to protect themselves. One woman sitting with this guy said something to the effect: "During the Civil War the North didn't fight the South without guns, did they?"
Then the BLM guy showed the BBC reporter his weapon. It looked like a .45 caliber weapon I had in the military. He pulled back the hammer to show that there was a live round in the chamber; he said that the safety was not on; and told how he was ready to defend himself from the police because as best he knows he could be pulled over and murdered driving back to his home.
The BBC program referred to the Black Panther movement. Huey Newton and friends paraded into the Capitol Building in Sacramento carrying military style assault weapons. They scared the beegeesus out of all the white folk.  They were not breaking any laws.
By the way the history of the National Rifle Association (NRA) asserting the great supremacy of the Second Amendment did not come about until 1977. When the Black Panthers hit the California capital it was in the late 1960s. Ronald Reagan was governor. He signed the Mulford Act without any NRA opposition which restricted citizens from carrying guns in public and instituted one of the country's most strict gun control legislation.
When Reagan was running for president the NRA changed and so did he. As the article on this noted, Reagan "would begin to actively encourage 2nd amendment rights to keep citizens safe from the despotism that could be enacted by government, just what African-Americans had been hoping to achieve in the 1960's when he had instead endorsed the Mulford Act. The post 1977 NRA endorsed their first presidential candidate, Ronald Reagan, after both had switched to a more strict 2nd amendment rights defense."
Now thanks to the NRA and the Supreme Court's erroneous interpretation of the Second Amendment we see that we have gone back sixty years and the rights claimed by the Black Panthers that were taken away from them but reinstituted after their danger passed are coming back to bite our police officers. The abundance of guns made police officers kill two black men because they were carrying them, at least one legally. The abundance of guns gives people who are of the mind of the BBC guy that they better be prepared because the police are out to kill them.
The last three weeks has brought about the deaths of at least eight police officers from gun shot wounds. We feel bad but pretend it is not a gun issue. Even Obama did not mention guns as he usually does. The TV commentators said that was good. He did not want to politicize the issue.
Why is mentioning gun ownership a political issue? It is a human right issue. It is a police life issue. It is a human life issue.
We want to forget the Second Amendment language about militias and the security of a free state. We want that everyone should have guns even though militias no longer exist and the security of the state is based on its armed forces. How are we making America secure when we see people with guns killing our police officers?
I know you don't need guns to kill people. We saw it in Nice, France, where a down-and-outer murdered 84 people with a truck. There are terrorist attacks with bombs (the Haymarket Riot in Chicago in May 1886 where seven police officers were murdered) and planes as we saw on 9/11.
True, there are other was to kill people but, "For most of the last 35 years, the number of police officers who die on the job in the U.S. declined, but one grim statistic held steady: The most common cause of death was gun homicide."  There are five dead police officers in Dallas who were murdered with a gun; and three more in Baton Rouge.
The worst prior gun murder of police officers was in January 1932 when six were murdered by gun shot.  Five police officers were murdered in 1972 by a Black Panther shooting them over week.  And, I need not remind you it is not only police officers. We had our worst mass murder in our history a month ago when 49 civilians were murdered in Orlando.
Please explain to me how the unfettered right to own guns makes sense? Do you think we needed the guns of any of those people shooting cops to keep our country secure? How is it we are unable to make reasonable laws to benefit the law-abiding citizen and the police officers who keep us safe.
A long time ago I used to get frustrated at the inability of people to tell a bad guy from a good guy. Now it is because we are unable to decide who should have guns and who shouldn't and what type of guns an individual can own. It is time for people start thinking and stop being scared and lied to by the NRA.
This is not a poliical issue. It is an issue of whether a police officer can return safely to his family after doing his duty protecting us. It is an American issue which should unite and not divide us.