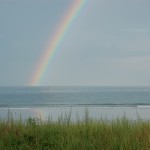 Here's what today is about.
"When in the Course of human events, it becomes necessary for one people to dissolve the political bands which have connected them with another, and to assume among the powers of the earth, the separate and equal station to which the Laws of Nature and of Nature's God entitle them, a decent respect to the opinions of mankind requires that they should declare the causes which impel them to the separation.
We hold these truths to be self-evident, that all men are created equal, that they are endowed by their Creator with certain unalienable Rights, that among these are Life, Liberty and the pursuit of Happiness.–That to secure these rights, Governments are instituted among Men, deriving their just powers from the consent of the governed, –That whenever any Form of Government becomes destructive of these ends, it is the Right of the People to alter or to abolish it, and to institute new Government, laying its foundation on such principles and organizing its powers in such form, as to them shall seem most likely to effect their Safety and Happiness."
I wish you all a happy day. I thank you for your participation in this blog. All of you have taught me much more than I ever thought possible. The discussion has been without rancor or hurt with a desire to learn. Participants have included doctors and flappers, teachers and scrappers, persons who won't lie down or be brainwashed.
Our goal always has been to make the United States a nation where all are treated equally by our government and accorded what is set forth in our Bill of Rights. We seek to remind our government to keep in mind it exists to serve us and not to tell us what to do. If it fails, we may withdraw our consent.
Tomorrow as promised I will talk about Weeks's upcoming testimony; Saturday is the Whitey Weekend Wrap where I'll give you my thoughts on the case and the machine gun evidence; and Sunday back to the Naimovich story, the part of that story which I have written I published earlier today.
What are you doing reading this? Get away from the computer. Go out and celebrate the freedom that we still have and be thankful you can do it.