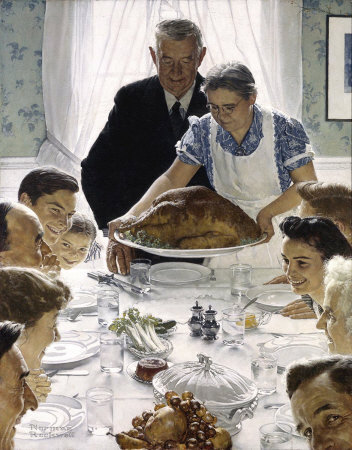 One of the best holidays is upon us since all we have to do is to enjoy a nice meal. No need for presents. Just a time to relax and give thanks for our good fortune that we live in America.
But do me one favor. After you are relaxing with a full belly and contemplating whether you have enough energy to play a touch football game or rather just enough to slip off into a comfortable chair for a couple of winks, help me figure out what is it the FBI can offer a Top Echelon informant in return for his help in giving it information that could bring down other high level criminals such as the leaders of the Mafia.
The FBI was quite successful in doing this. They did it in part through the use of these informants. I'm beginning to believe this is a story where we want our cake and eat it. We wanted the Mafia destroyed. We want to pretend that the people who helped the FBI destroy the Mafia got or deserved nothing in return for their help. We want a quo without a quid.
When John Morris testified he said that he asked John Connolly what Whitey and Stevie wanted in exchange for the help they gave. Connolly, according to Morris, said "all they want is a head start." Assume for a moment that is true which I know is difficult because Morris was caught in so many lies.
Connolly meant in using the term "head start" that they wanted to be tipped off if any indictments were coming down against them so that they could disappear. Would that have been wrong for Connolly to have made that deal with them? If so, why?
Would Connolly be wrong in saying: "you give me information on the Mafia's activities in the area and in exchange I'll give you a heads up on any charges coming down against you."
Keep in mind that at the time Connolly entered into his relationship with them the Mafia was the major organized crime group in Boston, Eastern Massachusetts, and throughout America. It controlled many of the rackets. It was considered by the FBI to be the number one threat to our nation.
The judges and the federal prosecutors suggest that for Connolly to have entered into that deal he would have obstructed justice. What then could Connolly offer these top hoodlums in exchange for information which would bring down the Mafia? I've been pointing out that these hoods with access to the high level information the FBI wanted were going to demand something in return. What then could the FBI offer them?
I know there's the story out there that the deal was you give us the information and we'll take down your competition. That was the Wollaston Beach fantasy invented in Black Mass. Why it doesn't fit is that Whitey's group and the Mafia were not in competition. They had amicably divided up territory and the peace between them was making both of them prosperous.
The people with Whitey worked with the Mafia. They did some of its hits for them. Whitey would have known that to take down the Mafia leaders would not allow him to take over their territory since there were other Mafia guys waiting in the wings to take over after the leaders fell.
What then could Connolly offer Whitey to make him a Top Echelon informant?  What had Rico offered to Stevie Flemmi back in 1965 to make him a Top Echelon informant? Until we decide that, something none of the people who have considered this matter has addressed, the Whitey saga cannot be considered in an honest and accurate manner.
Sorry to disturb your day by making you think. If it is too much then as Scarlet would do, think about it tomorrow. In the meantime have a happy Thanksgiving.