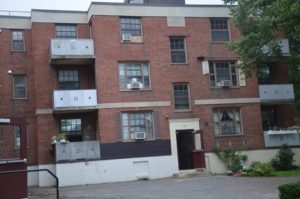 In September 1935 Ickes announced that the WPA was planning at doing a second housing project in South Boston on a 23-acre parcel of land almost adjacent to the first site chosen. They had secured options to buy it before making the public announcement.
Ickes tried to allay the concerns of other landlords in the area who complained that the subsidized housing would adversely affect them. He stated: "We expect to house only those who for the first times in their lives will be enabled to leave slum dwellings and find decent homes at prices within their means."
The one residence on the 23 acres was owned by Mr. and Mrs. Michael Mangiatordi who had lived there with their two children for ten years. Mr. Mangiatordi expressed hope to find another residence nearby since his children went to the local school, enjoy Columbus Park, and the beach during the summer. Though not excited to move, Mr Mangiatordi said: "we are pleased to be able to help the Government." (Those were obviously different times.)
Ickes said the new project when completed would be known as "Old Harbor Village." Requests for bids for the construction of 35 foundations in Old Harbor Village were put out on October 14, 1935. By May 24, 1937, the project had been 60% complete. The street names were adopted by a committee which reflected a certain ethnic group: O'Callaghan, Logan, Gavin, Devine, O'Connor, McDonough, O'Connor, and Murray. The one exception to was Henry Sterling Square named after a prominent labor leader.
In January 1938 it was estimated the first residences would be ready for occupancy in six weeks to two months. By July 2, 567 families had been accepted and 430 had moved in. On Sunday, September 11, 1938 over 10,000 people attended the dedication ceremony which included a march of 700 children who were living there. In Sterling Square a monument to Labor was unveiled. It showed three large figures representing the early American laborers who contributed to Boston's growth – a fisherman, a longshoreman, and a builder. In its front it had a long stone seat and at either end a statute of a child at play, a boy with a fishing rod and a girl playing in the sand.
The Boston police commissioner reported in January 1940 that there had been almost no delinquency among the nearly thousand families living there. I pondered the word "almost." I thought it would have been omitted except for that one tow head kid who live there.
Having spent my early years at Old Harbor Village I write this to express my appreciation and thanks to the poor Scottish/German boy who grew up outside Altoona, Pennsylvania in a town called Holllidaysburg who tried to always do right and fight back against the corruption and big business influence in politics. There is little doubt that without him my life and those of the thousands of boys and girls who lived in Old Harbor would have been different.
How lucky we were that those in control of the country believed "the men of wealth and privilege subverted democratic institutions, robbed he people, and exploited the public domain" and were determined to fight back against them. My time in Old Harbor was idyllic. I can never understand folk whose families had the privilege to live there not being Democrats or supporting Trump.
Ickes was a good, courageous and fascinating  American of high integrity.  He was totally honest in his dealings. He fought for the interests of the underdog. He was not in politics for himself but to better the lives of others. As I said when I began, his type has become extinct.
[This series started on December 17. It appeared on the 18th, 21st, 22 th. It ends today.]
PS: Most of my information and quotes are from a biography of Ickes written by Linda J. Lear titled: Harold L. Ickles – The Aggressive Progressive. 1874 to 1933. I believed reading it she would follow up with the rest of his career. Sadly, she never did.