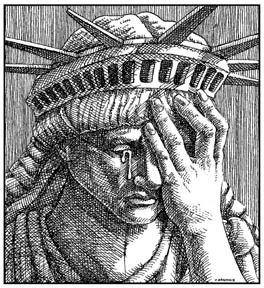 Plymouth District Attorney Timothy Cruz who I don't know appears to run his office in a way that I don't like. I'll explain that in a later post. But the Boston Globe's unfair attack on him leaves me scratching my head. There has to be something behind it that it is not disclosing for it is made up of whole cloth.
The nub of the Globe's hostility toward him is he has:  "a pattern of granting favors to violent criminals who continue to commit new crimes almost immediately after being granted leniency."
Cruz has been in office 14 years. He has handled cases involving several thousands of individuals over that time. The Globe's complaint points to four individuals. It is far from being "a pattern." Worse of all the Globe's complaint has no merit to it. Cruz should be commended for his actions rather than denigrated.
You would think that the federal prosecution of Whitey Bulger happened in another world. The Globe uttered not one word of protest about the incredible bargains the federal prosecutors made with admitted murderers there; nor about any other bargains by the federal prosecutors. Nor has it uttered a word of complaint about the FBI's Top Echelon Informant program which is based on the idea of "granting favors to violent criminals who continue to commit new crimes."
The cases that give rise to the attack on Cruz follow.
Case 1 involving Kashim Nembhard. He was in jail for possession of cocaine and heroin. He offered to identify a person who murdered another person. In exchange he wanted to get out on bail; the state police put up $350.00 in public funds to consummate the deal. Nothing wrong with that in the least. The money will come back to the state. Cruz could have nolle prossed the charges and bail would not be an issue. These are things that are properly done by prosecutors and police in exchange for cooperation.
A Boston College Law School professor Michael Cassidy says that is an inappropriate use of public funds. With all due respect to the professor, he is talking out of his hat. There isn't a prosecutor in the country who would not make that deal. His suggestion is absurd that they hold the guy in jail while he remains a cooperating witness. The guy would only cooperate if he got out; if they held him in jail he would not cooperate and the murder not solved.
Nembhard turned out to be a dirt ball. He continued committing crime. He statyed willing to testify in the murder case. (It was dropped because another witness lied) He also helped convict three other murderers according to Cruz.
The Globe article makes big ado about Nembhard's help on bail not being told to the grand jury or the defense counsel. That is hard to figure because a judge found that the failure to disclose was inadvertent. The bottom line is Cruz sought to get information on murders. He dealt with a guy involved in drugs who could give him information.
Think of the federal prosecutors dealing with the guys who were involved in murders in order to get information on others. Think of the many drug dealers the federals use to testify against others who get deals. Truly what Cruz did in the situation was commendable yet reading the Globe's slant on it you would think otherwise.
Case 2 involving Olivio Leverone. Cruz agreed to drop illegal firearm charges against him in exchange for information in several unsolved homicides. He also gave him $2500.00 to get another place to live. Leverone provided important evidence in over a half-dozen violent felonies. A year later he got jammed in again. Cruz didn't help him.
Where's the wrongdoing here?  Michael Rezendes who is writing the article for the Globe hasn't the slightest clue how the system operates if he thinks there was something wrong with the Leverone matter. But others on the Globe do and letting him put this trash out as something wrong bespeaks of the Globe having a sinister motive in attacking Cruz.
Case 3 involving Linanel Brown-Madison who was facing charges for a murder he committed during an attempted robbery in 2013. For four years prior to that Cruz's office had worked with Brown-Madison. He provided information that helped in bringing two indictments in a murder case. All Cruz ever did for him was to reduce a mandatory gun sentence so that he could remain on the street to help them. Here again, there is nothing to complain about. If you want to solve murders committed by criminals in the depths of the inner city you have to work with people who are criminals.
Case 4 involves Nilton Darosa. He agreed to testify under threat of being deported. Cruz put him out-of-state at public expense fearing his life was in danger. He testified against murderers in two separate trials. He proved to be a lousy witness. In both cases the jury was hung.
Cruz probably figured he was giving him the run around. He arranged for him to be charged with carrying an unlicensed firearm. Darosa as expected refused to testify further. At that point he had no credibility at all. The cases will not be retried. In that matter Cruz was double-crossed by Darosa. He cannot be blamed for not anticipating that. After all he is trying to solve and prosecute murder cases with the worst type of witnesses.
This article was nothing more than an unfair hit piece on Cruz. He should be given credit for trying to solve murders rather than condemned. I now look for the Globe's gang up on Cruz.
This will be interesting to watch especially since there is nothing there. I expect an editorial demanding that its ever willing Bostonian of the Year Carmen Ortiz; or the new Massachusetts AG; or perhaps even the ever compliant Supreme Judicial Court investigate Cruz. Then the toady columnists will pile on to further the attack.
I'll explore the matter in greater detail tomorrow.