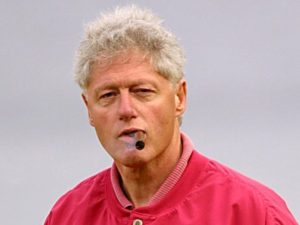 CNN had the video of Hillary Clinton as she left the 9/11 dedication prior to its end. She left because she felt a little woozy. Her staff indicated that it had something to do with the heat. Only the day was not a heat type day with the temperatures in the low eighties.
Looking at other pictures of her leaving you can see how well the Secret Service protects her not only from any danger but from the public seeing what she is doing. They kept everyone a good thirty yards away from where she was standing. Fortunately someone was able to video what was happening since the government agents left just enough opening that videoing it was possible.
She was standing as a car pulled up. A man came to her left side and took her elbows. He appeared to be holding her steady. When the car door opened another man came up to her right side. The three of them started forward and Hillary seemed unsteady on her feet. She stumbled a bit. As they continue on she dropped down in what appeared to be a total collapse caused by losing consciousness such as fainting.
The men on both sides were unable to hold her up but did appear to prevent her from hitting the ground. Then another Secret Service man stepped in front of her to block what was happening. She appeared a couple of hours later all by herself in front of her daughter's condo building with a big smile. Where was Bill? She then apparently headed to her home. She has now cancelled her scheduled trip to the West Coast planned for today.
I wondered to myself when the guy stepped in to block the view of her if this is the Secret Services job. You would think they are being paid by the candidates rather than the people. Do they have an obligation to disclose to the public when a candidate faints or is that a state secret? Wasn't there a book recently by one of them who told about how horrible a person Hillary was when she and Bill ran the White House? Those books are not worth the paper that carries the words – if the person were sincere he'd have told what happened when he was there not wait twenty years.
The question we must answer without help from the Secret Service is how sick is Hillary. She had the lingering cough for a while and now she takes a tumble. Her doctor tells us it was caused by dehydration complicated by pneumonia. Yes, pneumonia which she apparently was diagnosed with the Friday before but why was that was kept secret from everyone. If she did not take a header would we have known she had that illness which is an infection of the lung? It's not serious in people under 65 but wait, Hillary is 68.
What are we to make of this? Pneumonia comes in all different shades and colors. At a minimum we must know more about it since It can be deadly or greatly disabling. The first question to answer is whether Hillary is too sick to be president. Expect her doctor to say she is in robust health and that this problem will pass. That is not going to be enough.
You have to wonder though what effect will it have on the presidential debate scheduled for two weeks from today. Does it give her an excuse to duck it? Seeing that she knows that is Trump's big chance to close the gap with her is debating her she may be tempted to stay away.
Maybe, though, even if she does not get out of a sick-bed to debate she has gained an enormous advantage. Trump faces a huge quandary. Americans will not be pleased if he picks on a sick woman. Take that away from Trump and all you have left is an empty suit.
Keep in mind that Slick Willy is operating behind the scenes. If you dare, try to imagine how he will play Hillary's collapse to her advantage. The comeback king is busy working on that right now.