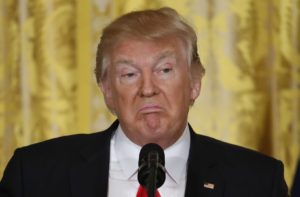 There is an Old Testament proverb that is attributed to the Jewish King Solomon that I recall to mind each Easter Season. This season this year seems an appropriate time to set it out because rarely if ever has one man captured all the things that the Lord considers an abomination. It is from Proverbs 6:16 – 19.
"There are six things that the LORD strongly dislikes, seven that are an abomination to him:
haughty eyes, has anyone ever seen Trump's eyes. They fit the dictionary definition of haughty perfectly. "blatantly and disdainfully proud : having or showing an attitude of superiority and contempt for people or things perceived to be inferior.
a lying tongue Think of WikiLeaks. You must recall the numberless times Trump referred to it during his campaign. He even held up a paper  saying "I love WikiLeaks." When asked about it after the arrest of Julian Assange he said, "I know nothing about WikiLeaks, it's not my thing."
He lied. Hardly an eye was batted. The person holding the highest office in the land has lied so much that it fails to bother anyone. There is present day America – a country that lacks shame. No wonder the rich parents corrupt their children getting them into college.
hands that shed innocent blood – let us consider the children of those seeking asylum in this country who were separated from their parents some of whom died in body and others in spirit. Innocents all.
a heart that devises wicked plans – his whole life dedicated to hurting those who stand in his way by his many bankruptcies hurting the suppliers and working folk and his various dalliances with women and people like Jeffrey Epstein.
feet that make haste to run to evil – think of his support and association of the Saudi Crown Price, his fawning over Kim Jong Un, his embracing the brutal dictator el=Sisi, Duterte, Putin, and Erdogan.
a false witness who breathes out lies, – the one thing we know for sure is that is Trump's real stock in trade.
one who sows discord among brothers.  He thrives in setting one group of Americans against another. He tramples truth and appeals to hatred. His attacks most recently on the Muslim Congresswoman over her statements pretending because she was Muslim she approved of the 9/11 attacks. His stories about caravans of unwashed and unwanted people coming to America. His "America is full" rants.
We have a leader of our country that flouts the word of the Lord.  Tragically,  people who pass themselves off as pastors, ministers and other religious representatives of the Lord not only remain silent about these abomination but suggest Trump has been sent by the Lord. Truly, they bear false witness.
Encompassing all the abominations, which few will deny,  the most constant one is his lying tongue. Also during this Easter season I thank  the Lord I live in this country. I recall the lesson I learned about George Washington and the cherry tree. What was it he supposedly said?  What was it that made us feel good about America"s first president aside from his courage? We believe he was a man of truth.
Do you appreciate the courageous acts of Washington? He could only do them being a man of truth. Some have even suggested a connection between truth and courage. Think of the many men and women who sacrificed for others. What they have in common is an allegiance to the truth?
Trump has an allegiance to the lie.