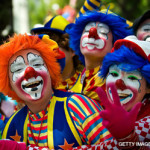 We've been inundated with so-called experts telling us the tale of Whitey. Most following the leader assuming things based on tales of others without a first hand sense of the matter. They've run past obstacles as if they didn't exist. They buy into far-flung theories of others who are like themselves far removed from the world of the actors about whom they write. One even considers himself the official biographer of Whitey having never met him. What they all have in common is it appears they have been totally wrong.
How then to eat their words? Do they have the courage to stand up and say all that they have written was wrong? That without knowing the full story they jumped the gun and the egg dripping down their faces is well deserved. That they sowed from the files and words of liars which allowed them to reap lies and made books and articles of lies!
Where was the thought process that went into cheering for the conviction of Connolly who they believed was a corrupt agent yet relied upon him for their stories? Where was the little voice in their minds telling them if he was corrupt in one thing he would be corrupt in other things and his words should not be relied upon to weave the fabric of their tales? Are they so divorced from the world of the street that they did not understand people who were eleven years apart in a city neighborhood did not hang around with each other; or that even if six years apart it was the same thing?
Why did they not question anything this corrupt agent told them when writing their stories? Was it because to question was to find out that the stories had as much substance as a the foul breath of a liar? Better to turn a blind eye to the deceiver as long as you can use his deceit to your own end.
Were they so uninformed that they thought the FBI files were on the level? Did anyone ever check to see that the FBI file designating someone as an informant means nothing? Didn't they know that people were called informants who never knew they were informants and that the FBI agents played a little game among themselves opening up as informants the people they talked to?
Mikola Hohol, to my Ukrainian wife Maria,  Nikolai Gogol, to non-Ukrainians, would have loved it.  In Dead Souls he writes how Chichikov set about to buy dead souls (serfs who had died but were still listed on the census register) so that he would look like the owner of many serfs which would increase his social standing.
A present day Hohol could tell us of an FBI agent seeking to add to number of informants he was handling, which increases one's prestige in the FBI, by buying from other agents the informants that didn't know they were informants. Not only that, he could make up names for informants who did not exist thus accumulating a vast number and enormous reputation. He could fill each informant's file with reports stolen from other informants files which Hank Brennan, Whitey's lawyer, has shown that Connolly was doing.
As we've seen, no one would  check on him. No one would know since we in the other world can't gain access to informant files. When he retired he could close them out and no one would be the wiser.
It sounds as outrageous as Hohol's story. But that's exactly what happened in Whitey's case. In 1971 Dennis Condon opened him as an informant. He carried him for three or four months and closed him out only because headquarters wanted a follow-up on him. Other than that he'd have carried him much longer. Whitey had no idea this was happening on the books of the FBI.
While all those who will have to eat their words gleefully reported Whitey was an informant in 1971, I noted back in February it was not true. It made no sense.
Most of these are the same people who made Whitey an informant at the time of his arrest in 1956. They do that because they don't know how things really work. I've pointed out that Whitey wasn't informing he was confessing. He was doing it to save his 20-year-old girl friend. The FBI was squeezing him, as only the FBI can, by telling him that his girlfriend who served as a lookout for the robbery was going to do heavy time unless he confessed. He did. The FBI squeezed the girlfriend a little, she gave up the others, and she walked. Whitey took a 20 year bit. Yet those so-called experts called him an informant.
They're wrong twice about Whitey. Now what's left of their stories and friends when it starts to appear that Whitey was never an informant after all? How do they eat all those silly words they wrote? What does it tell us about them that they were so wrong? Does being a reporter mean you never have to say you are sorry?
It's beginning to look like we've been led astray by willful writers seeking a buck over the truth. The red light blaring at them, a light as bright as Morris's blush, telling them that things don't make sense they ran right through. The basic story was built upon the tales of three men, Morris, shown to be an inveterate liar; Robert Fitzpatrick, called by the prosecutor's witness "not credible and a serious revisionist of history;" and John Connolly, a shanachie,  telling whoppers about  banshees, fairies,leprechauns and informants. What it amount to is they built their tales on a foundation of sand.
How does it feel? How does it feel being so wrong? How does it taste eating your words that were lies? It's not Whitey's whose fate is being decided by this trial but those who built their careers on make-believe stories.
Who would of thunk that would be the outcome of this macabre tale?  Send in the clowns!