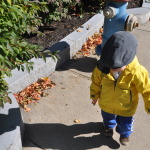 If I am using that beer test to decide who to vote for does the introduction of female candidates into the equation change things? Let us take a look back to how it was in the early Twentieth Century prior to the time women could vote or hold office. Here's a little insight into that from Felix Frankfurter.
When he moved to Washington,DC for the first time he was a bachelor. He ended up living in what was called The House of Truth with a bunch of other guys who were also bachelors. He said it got that name because it was "where truth was sought, and everybody knew it couldn't be found, but even trying to seek the truth conscientiously is a rare occupation in the world. The dominant quality of the house was that you were unafraid to talk about anything." (Perhaps that remained subconsciously in my mind when I first read it which occasioned this blog to be named Trekking Toward The Truth. We may not find the truth but we'll certainly expose the many untruths.)
Frankfurter said his wife believed that to understand the gaiety, spirit and relaxed behavior of the house it was "that it was run by men and there was no sticky woman around making it sticky – nobody who worried about things being just right. . . . unimportant things were unimportant."  He went on to say the house was run in an "easy, devil-may-care sort of way . . . [with] great informality, great ease, free flow of talk. There were no sacred cows. You weren't afraid to express differences of opinions, which is the very life of good conversation. Men felt that what they said was not going to appear in a column, let alone appear in a distorted and untruthful fashion. . . . [W]e were all friendly, truth-seeking and truth-speaking people. The friction of minds through the friction of tongues would make everybody have a good time, and in the second place it would make us see things a little bit more comprehensively than each man saw it alone in his own mind. The free spirit of man, in short, asserted itself and gave enjoyment in its exercise."
I take that Frankfurter believed that things would not have been the same had women taken part in any of the discussions in the house. That's not to say women had no influence on matters. We know that they have always had great input in decisions made in this country from as far back as Abigail Adams or even farther. But they were made one-on-one with a spouse and not in the free-for-all discussions Frankfurter was talking about.
One hundred years have passed since the House of Truth was in its heyday. In the latter part of the 20th Century we had in America the Great Awakening with respect to women. They came from their confinement in the "being seen but not heard" corral to the present time where they have somewhat of an equal voice with men. As political candidates they are now ubiquitous with one or two aiming for the big spot.
Does that mean I can no longer use my long established yard stick in deciding who to vote for? In other words are there some women I'd like to go out and have a couple of beers with and expect to have an enjoyable evening in the same way I would with a guy.
Thinking back to my early days as a prosecutor I founded a group called the "Golden Knights of the Bar." The group met monthly spending many golden nights in various bars in Norfolk County. At first it was male only but after a bit we opened the door to our fellow women prosecutors. I must admit the free-flowing discussion was not inhibited in the least by their addition, in fact it was enhanced. The Golden Knights didn't last too long as you might expect. After it faded away there were still times I'd find myself sitting in a barroom with boy and girl prosecutors enjoying our discussions.
There were some women I looked forward to having a beer with and others who I'd run from. I realize that was the same for the men. So, I'm happy to say that the test in deciding how to vote is still valid now that women are on the ballot. Which means I must decide whether I'd like to have a couple of beers with Martha Coakley. I've already made that decision when it come to Hillary Clinton.
(Next week is FBi Agent John Connolly week.)