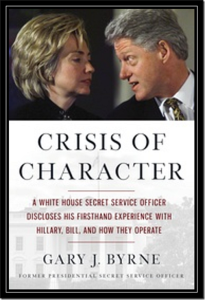 A long-time reader of this post, Ed, commented the other day about the new book coming out on Hillary shown on the left by inferring that we should not be surprised by anything we read about her and called our attention to a book written in 1997, "The Secret Life of Bill Clinton" that tells of the many conspiracies the Clintons were on the skirts of or involved in.
Ed was responding to another long-time reader who lives within a day's driving distance of the Mountains of Mourne, Henry, who commented about the book. It is  by a secret service agent concerning his days watching the Clinton's operate including a tale of how Hillary gave Bill a black eye.  You have to admit those women living near the Ozark Mountains in Arkansas have quite a wallop. I'm told the book is at the top of the best seller list even though it has not been released.
The wonderous thing is that it will change nothing. I noted to Ed that the American people are in line to have a choice in November between the two candidates each of whom have the highest unfavorable rating of any other person running for president in our history. All that reminded me of my prediction a long time ago that the Trump is the Clinton Candidate; he is part of the Clinton plan to gain the White House.
I do not know how many of you remember my three-part series I wrote beginning on January 1, 2016 entitled "2016: The Year the American Presidency was Stolen: The Clinton Plan." If you are interested in reading it you can go back to it here and here and here. Later today I will put the three parts together in one post.
I started it out with a poem:
Hillary, Billary, Sought
To Make Donald Trump Hot
He burst into fire
And soon did expire
The Hillary, Billary Plot
I expected as a Republican candidate he would build up a 20 percent or so following and after losing his chance at the nomination to bolt to form a third party and take votes away from the Republican. I underestimated the hatred that exists in America that would make people vote for a bizarre bigoted braggart billionaire.
One person who didn't was Bill Clinton. Being from Arkansas he knew how easily some of those white folk would fall for a little sprinkling of the old pitch "America for the Whites!"  He was familiar with those Hill Billies who like to think people of different colors and backgrounds from them are less American.
Bill probably suggested to Trump his racist slogan: "Make America Great Again." When was that? Before we had a black president? Before the Civil Rights bill? When we defeated Pancho Villa? Or was it back in the days of the Know Nothing Party before those dirty immigrants came here and the blacks were kept in chains? I never in my longest day thought man not far removed from David Duke or Lewis Charles Levin or William Joseph Simons would be in this position.
I am actually thunderstruck that the Republican party would nominate a man who will receive no more than 5% of the black and Hispanic vote. Will that make America great again when such a huge percentage of our fellow Americans oppose him. It was actions like that which were the last gasps of other parties like the American Party or the Federalist Party. They so purified their electorate that they found no one wanted to be associated with them anymore.
I most recently wrote back on March 3, 2016, that once Bill Clinton convinced Trump to get into the race then either one of two things would happen: one, which I expected, he would never gain the nomination; the other, I wrote: "Even were Trump to get the nomination which neither he nor Bill Clinton ever expected, Hillary will still get the presidency. Romney will effectively destroy any chance Trump has to get regular Republican votes by alienating many in the party against him. Other establishment type already say they will not vote for him. Further, his performance in any debate against Hillary will make everyone realize he is an empty suit."
Although we see some in the establishment going over to support him, there are still many like Romney, the Bushes, and others who will sit on their hands. I also noted his debate performance would be abysmal. I still expect that but it will not matter because by then he would have made himself toast.
After having enough votes to secure the nomination, which as I said neither he nor Bill Clinton expected, Trump began to further alienate people. This is not the performance of man on the level; he is acting to ensure Hillary will definitely win. He will make it that those of us who recognized the dangers of putting the Hill Billies back in the White House will still be unable to stomach the idea of voting for Trump.
In other words those who feel an obligation to vote in the presidential election will vote for a third party candidate. That will have the same effect as if Trump bolted from the party and ran as an independent taking his voters who, as another long time reader here Ernie Boch said, wish they could vote for him twice.
The horror of this is how cleverly the Trump/Clinton conspiracy is being carried off in the face of 300 million voters. In a year when the presidency is offered to it on a silver platter the Republican party tips over the platter and punches the person carrying it. It will offer as a candidate a man who cannot be elected.
If that is not the sign of a party that no longer belongs in business I do not know what is. The Democrats threw their founder Jackson off the twenty; the Republicans are throwing their founder Abe Lincoln, his ideas and their party off a cliff.