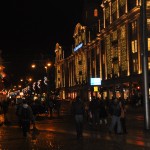 My telling of the story of Trooper John Naimovich must be like a serialization.  To understand it you have to know what I've written on past Wednesdays.  Serialization is as old as Sheherazade's stories in One Thousand and One Nights.  It gained immense popularity in the 19th Century when most good authors like Dickens produced their books in segments.  Google tells of its history.
As a youngster I would attend movies that were serials.  After the first episode, each following week a segment would be shown that would be a continuation of the prior week. Like a magnet it drew me back each Saturday morning as the suspense built. To understand the movie, I had to make sure I saw each segment.
To understand Naimovich you have to have read most segments about him.  I'll sum up a part of the story here.  Each Wednesday I'll add to the story.  To get a sense of what I write about you'll have to read most of all the Wednesday material including that previously posted.
The gist of the Naimovich story is that he was a state trooper with 23 years of remarkable service who successfully went after organized crime gaming syndicates.  On February 3, 1988, he was arrested in a humiliating manner in front of all the members of his unit.  He was paraded before the media.  When I learned of his arrest I called assistant U.S. attorney Jeremiah O'Sullivan.  He told me Naimovich had been undermining FBI investigations for many years by leaking confidential matters to the LCN.
Naimovich was abandoned by everyone on his job other than fewer than the fingers on your hand.  His union refused to pay for his attorneys.  Some on his job worked actively, perhaps over eagerly, to try to convict him.  The story that was patched together seemed solid.  When convicted the government planned to send Naimovich away for twenty or more years as a bad cop.
Tom Foley who had been a Massachusetts state trooper for a half dozen years, two of those working for the FBI, was heavily involved in the investigation of Naimovich.   He barely knew Naimovich but had this to say about him in his book, Most Wanted.  He was "A tough, burly guy, not far from retirement, Naimovich had all the personality of a nightstick.  Few liked him, and that is saying something in the State Police, which is a get along kind of group.  Naimovich would give you a grunt or a look, and think he was being helpful."   You can understand why a person like Foley and some others would gleefully help the FBI.  As he said, "few liked him".  He was not one of the guys, an easy and acceptable target.
I had worked with Naimovich off and on over ten years.  We weren't friends by any means but we were close because of our work.  To say I liked Naimovich would be stretching it, to say I admired him would not be.  Naimovich was hard to like.  It was even harder to get him to like you.  You had to earn his respect not by talk but by the way you did your job.  It took time to do this.  Guys like Foley who liked the "get along kind of group" could never understand a Naimovich so he looked upon him with jaundiced and suspicious eye ready to turn on him at the slightest prompting,  especially if it came from someone he admired like the FBI.
Naimovich was all business all the time.  He was all state police but not in any showy way.  He dressed like a longshoreman.  He wore a gold earring.  He seemed slovenly.  He had no showing of any wealth living a very modest existence.  His was an odd name among all the Irish names.  His nickname, Ivan, bespoke of someone strange.  He was interested in doing his job as well as he could.  He had had a remarkable career including running a bookie office as an undercover trooper.  He had no plans to retire because he loved his job.
At the time he was arrested he and I were planning to set up a special unit in Norfolk County to go after the leaderships of all the organized crime groups.  We were both expert in electronic surveillance.  We loved working it.  I had developed a nick name Matt Tap among some of the cops.  (As a consequence of working closely with cops I picked up two other nicknames:  Monte and Fletcher, but those are other stories.)  I figured if we joined up we'd get tremendous results.  Naimovich was willing to leave the Special Services Unit (SSU) where he had worked for years and come to Norfolk because the SSU had been merged with another state police unit to create a new unit called the SSS.  This new unit was run in coordination with the FBI.  The new guy in charge of the SSS had an intense dislike for Naimovich and feelings of grandeur because the FBI let him work with its agents.   Naimovich felt the new guy was sort of a phony who didn't earn his stripes.
After I learned Naimovich was arrested that was all I knew.  I knew nothing of what O'Sullivan or the FBI had for evidence against him.  I called around and tried to find out.  The few who were willing to talk to me told me nothing.   I had to assume the feds had a rock solid case.  After all, this guy had been on the job a long time spinning out one investigation after another which took down top organized crime figures.  You just don't indict such a person unless you are absolutely sure you've got him good.
Even though I knew nothing about the case and had to believe the feds had him locked up solid I didn't believe Naimovich was a bad cop.  For all I knew they had tapes of him talking to top LCN figures or pictures of him taking money from Mafia hoodlums.  But until I knew more I had to go with my gut.  As I said to O'Sullivan that morning, "you guys made a big mistake."  A few  weeks later teaching a course to state troopers at their facility in Framingham and still without knowing the evidence I told the class that Naimovich was wrongfully accused.  (I was not invited back to teach again.)  I had put myself way out on the limb in my belief that he was wrongfully charged based only on the dealings I had with him and my feeling he'd never have compromised anything law enforcement undertook to do.
I'd come to find out he was set upon by the FBI with the complicity of guys on his on job.   The initial basis for their investigation proved false.  Gears were switched to find another basis.  They were intent on finding something, anything,  against him.  They went after him through his informant a low level bookie named McIntyre.
McIntyre was one of Naimovich's long time informants.  The FBI found that there were telephone communications between Naimovich and McIntyre.  What's the first thing an experience investigator should ask when he sees that?  Why is this trooper in touch with a bookie?  If the trooper is a road guy then it should raise suspicions.  If the trooper is involved in chasing after bookies then it should raise the idea that this bookie is his informant.
The FBI agent of 20 year's experience who received gifts from Whitey and dined with him and Connolly said he never thought of that.  He also said he couldn't ask anyone about it because it might compromise his investigation suggesting that everyone in the state police were suspect.   The normal thing was not done.  Rather the FBI with O'Sullivan's help got a pen register to show Naimovich and McIntyre were in contact over the telephone which the people who supervised Naimovich knew.
The FBI twisted this normal relationship, added in things that would later prove to be false, and secured a wiretap warrant to listen to McIntyre.   The intercepted conversations showed McIntyre was running a bookie office which was well known to the state police and should not have surprised anyone.   The FBI got warrants against McIntyre and arrested him.
The night of his arrest he was interviewed.  He said nothing that would implicate Naimovich in any wrongdoing.  He told the FBI he was his informant.    The next day he had to meet with O'Sullivan who told him: you'll go to prison for many years and lose every asset you have if you do not change your story of Naimovich's innocence and implicate him in criminal activity.   A day or so later McIntyre came back in with a new revised story.