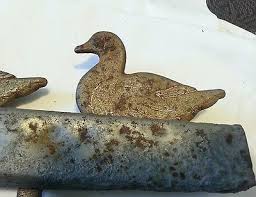 Another sitting duck lost his job. By now I would think everyone employed in the public sector in Massachusetts should realize he is considered by federal prosecutors to be like those tin ducks at the carnival that go round and round and easily fall over when hit. There is very little crime in the area so to justify their jobs these prosecutors along with their FBI friends, who need to put out bulletins and keep up their statistics, are in the process of creating federal crimes.
The much vaunted and over populated federal public corruption unit in the Boston U.S. attorney's office just brought down another probation officer to add to their statistics. He will plead guilty and get put on probation. The defendant has to agree to lose his job. Somehow the anti-corruption unit seems to delight in putting people out on the street.
This matter involved a 46-year-old guy named Lawrence Plumer who was pulling down near eighty grand a year for just supervising people. He had one of those "nice jobs if you can get it." His vileness caused him to lose it. I agree he is not the ideal type of person who should be working in the probation department. My problem came when I was reading about the case when the thought came to me: why are the federal people investigating this guy?"
Here is the best I can find out about what Plumer did. It comes from an article by Globe reporter Milton Valencia, cited above, who does a good job covering Boston's federal court. He writes: "[The FBI] first began investigating Plumer in January 2014 after a woman serving probation under his supervision reported "mistreatment" by him . . . Assistant US Attorney Robert A. Fisher said . .  . [he] did not describe the alleged "mistreatment" but said the investigation involved the woman's deprivation of rights."  
Valencia then went on to write: "the woman who reported the mistreatment, as well as a second woman serving probation, told federal agents that Plumer showed them pornography in his office." He showed pornography that he had on his cellphone to the women 
Plumer was an easy catch. "Hi, Mr. Plumer, my name is FBI Special Agent Hoover. Here are my credentials. Have you been showing pornographic pictures on your cell phone to women you are supervising on probation?"  What do you think Plumer's first instinct was? You got it. It would be to deny it.
Ironically if he admitted it he had done it he would still be on the job. Or, if not on the job, he would at least not be in federal court. There is no federal crime in flashing porn on a cell phone. But by denying it the federals had him.
But did they? If an FBI agent comes up to you and asks you if you are parked in a handicap spot which you are and you deny it, that is not a crime. The lying has to be about something in that is in the jurisdiction of the United States and a material fact or materially false. Congress has yet to make wrongly parking in a handicap spot a federal crime.
For Plumer to have committed the federal crime under 18 U.S.C. section 1001 (lying to an FBI agent) it had to occur during an act the United States had jurisdiction over.
So how do the federals stick their nose into this? They say Plumer was depriving the women of their Constitutional rights. He did not do it by showing them his cell phone so how did it occur? The prosecutor said he mistreated the two women; if he did so by just showing them the pictures that is not a federal crime. Do we have a constitutional right to not be shown such pornography?
Which calls up another question, what is a considered pornographic under the U.S. Constitution. My sense now is that there is little that is when it comes to adults. Unless Plumer was showing grossly obscene pictures which has not been alleged it would seem that he was not committing a federal crime.
That, of course, is a different question than whether Mr. Plumer should be a probation officer. What he did to women he was supervising is outrageous. His failure to treat these women in a decent manner and respect their rights was plainly wrong. I have no problem with his getting the boot for acting toward women so boorishly but it does seem overly harsh.
So you might ask, if it was not a crime, why then did he plead guilty? I will talk about that next.