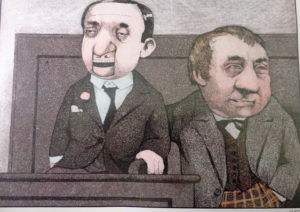 I was in court during the Whitey trial. I sat in the same room at times with Howie Carr who would arrive with some morning snacks that he shared with other people. I said hello to him two or three times going in and out of the press room where the trial was being broadcast on television. I noticed how some of the court officers, I'm not sure what their real title is but they serve the same function as court officers in the Massachusetts courts, would cozy up next to Howie and whisper juicy things in his ears.
What is it in people that makes them want to suck up to others? Usually they are passing on some dirt or tasty bait hoping Howie will snap and write something nasty about some person they have a grudge against. They probably do that for the same thing that many to vote for Trump hoping he would stick it to people they don't like.
One person I saw talking to Howie was Tony Cardinale a lawyer. I've known Tony enough to say hello to him and have a decent conversation. I may have had occasion in the past when I was a prosecutor to talk to him or perhaps it was just as we waited in court for the cases to be called. I always though highly of him and his ability. I recognized he represented the Mafia figures in Boston. In doing that, it was not only when he was on trial but also dealing with some on an every day basis. He was not involved in any of their illegal business but he would tell any story from their view-point sort of like an ambassador.
I've always been impressed with the Mafia's influence in Boston especially in the way it got back at its enemies. There were three guys who the Mafia had a particular hatred for: FBI Agent Rico, FBI Agent Connolly, and Federal Strike Force prosecutor O'Sullivan. Rico was responsible for flipping Joe Barbosa whose testimony sent the Mafia Leader Patriarca to prison, put under-boss Angiulo close to going to prison (some alleged they fixed the jury to get him an acquittal) , and put Henry Tameleo who was Patriarca's right hand man away for the rest of his life among other things.
Connolly was blamed for what their fellow paisano his informant Steve Flemmi did to them. Flemmi provided the layout of Gerry Angiulo's office so the FBI could plant a bug wiping out the Angiulo gang; the information on Vanessa's in the Prudential Building wiping out the Vinny Ferarra gang which took over after Gerry went to prison; and the information that allowed the FBI to bug an FBI induction ceremony presided over by Raymond Patriaca's successor, his son.
O'Sullivan was the lead prosecutor in putting Angiulo, his brothers, his lieutenant Larry Baiano in prison. He was also responsible for other prosecutions including that which sent Howie Winter, and ally of Angiulo, to prison.
After Connolly retired, he was indicted and tried for his actions as an FBI agent. He is still in prison where he will die if nothing changes. Rico would retire in Florida and he too was charged with a criminal act involving a murder in Oklahoma, arrested and died while waiting for trial. O'Sulllivan would see that his reputation as a fearless prosecutor was torn apart with suggestions made that he was somehow in cahoots with some criminals or didn't do the job as well as he should have done.
Henry Tameleo would die in prison but he would be awarded millions of dollars for what was considered wrongful imprisonment even though that was not the case. Others convicted with him also got millions.
It is surprising no one seemed to wonder why the "good guys" ended up in prison or had their reputations torn to ribbons while the bad guys ended up rich at the expense of the taxpayer.  You have to give it to the Mafia – revenge is best served as a cold dish by using others in upscale places as a court houses and the media.