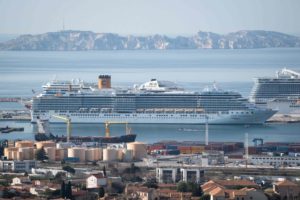 On March 5, 2020, the Cosa Luminosa, an Italian cruise liner owned by Carnival (one of the cruise lines the GOP wants to bail out)with 1,400 passengers  left from Fort Lauderdale to head on a planned cruise to Antigua, Puerto Rico, Málaga, Spain, the Canary Islands and Marseille. See here.
You may remember that on February 4, 2020, over a month earlier the Diamond Princess was quarantined off of Japan for days because of a coronavirus outbreak. Then on the date of March 5 there were reports of another cruise ship, the Grand Princess, being held up off the coast of California because of coronavirus concerns.
On March 15, 2010, the Miami Herald reported: "A 68-year-old Italian man, who became the Cayman Islands' first confirmed coronavirus patient and its first virus-related death Saturday, was on the same Italian cruise ship carrying Puerto Rico's two first COVID-19 cases. The death was reported Saturday. Carnival Corp.'s Costa Luminosa landed in Grand Cayman on Feb. 29 after its Italian passengers were barred from disembarking the day before in Ocho Rios, Jamaica, due to fears over the potential spread of the novel coronavirus, which causes the flu-like COVID-19 disease. Days later, the ship arrived in Puerto Rico, where officials announced that a 68-year-old female passenger from northern Italy had been evacuated from the cruise ship with pneumonia, accompanied by her 70-year-old husband."
This ship was allowed to land in Ft. Lauderdale after Jamaica banned its Italian passengers from disembarking.  Were they barred in Ft. Lauderdale? Three days after leaving Ft. Lauderdale it dropped the two Covid-19 passengers in Puerto Rico.  Neither Antiqua or Spain would let the ship disembark its passengers. Finally, in Marseille on Thursday the passengers from France, Canada and the U.S. disembarked.  36 of the French people tested came back positive. Ten American and Canadian passengers were tested and three came back positive. They were put on buses and taken to the airport. One person described it as: "It was so crowded. There were so many sick people coughing."
They finally got upon a plane chartered by Carnival and were flown into Atlanta. Three people were taken off the plane who tested positive for coronavirus. Kristen Norland for the CDC said: ""Passengers with no symptoms upon arrival were given health information advising them to stay home for 14 days after returning from travel, monitor their health and practice social distancing as they continued to their final destination."  Even people who had high fevers were allowed to leave if their fevers dropped. The passengers then headed off to take flights to the other parts of the U.S.
Ms Nordland "did not respond to questions asking whether it made sense to allow people who had been instructed to self-isolate to travel on commercial aircraft, potentially exposing them to other passengers."
"A Georgia state official who was not authorized to speak about the case said the three people who tested positive for the coronavirus were not exhibiting symptoms, and that 13 others, who were sick on the plane, had not been tested."
This just happened. A ship from hell dropping people off at various ports who are sick with coronavirus barred in Jamaica, lands in U.S. and Puerto Rico (how many infected mingled with those populations) again barred in two ports unloads a group of passengers where about 40 test positive for coronavirus. Part of them fly back to the United States aboard a plane on which one passenger said: "This plane is a medical disaster" 
It lands in Atlanta, a cursory check is done, three are found to test positive, others not tested and released into the general public. They fly off to other parts of the United States infecting who knows how many other people.
——–
I look at the statistics between Italy and the United States. By this time in their crises Italy had taken drastic steps to keep people apart. Despite that their deaths started to climb quickly. They now report 5,476 deaths out of a total of 59,138 cases. The U.S. has had about 25,000 cases reported and 340 deaths. The figures are out of whack with each other; especially since the U.S. still, as shown above, is having a half-hearted response to it.
I wish I knew the answer.