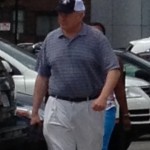 One person who has done quite well from the explosion of small time hoodlum Whitey into the person who has "terrorized the City of Boston for decades" is talk show host and Boston Herald columnist Howie Carr. I happened to have come into the vicinity of him over the summer. I can't say he's a disagreeable person to be around. People flock to him like Brazilian catadores to a filled garbage truck.
He's talented and productive; his daily radio show and his Herald columns would keep anyone busy. He's produced several books about Whitey which he has feverishly pumped out while the interest in him is high. Even with his busy week he travels on weekends from Cape Cod to Maine like an old-time pedler pushing his books and assorted other gadgets.
He also hustles for money by appearing in commercials. I saw him on a local TV show advertising hair transplants and telling how easy it is to have it done. I saw him one day after one of those transplants. He had on a blue and white baseball cap to cover his head while sitting indoors. I'd guess whatever was under there was not something pleasing the sight.
I had to smile. I though he had more in common with Howie Winter than the first name. He showed a picture of Howie Winter in one of his books wearing a scally cap. He noted in a derogatory manner that Howie Winter was covering his hair transplant. At least when Howie Winter did it he was in his thirties; I'm not sure how much it benefits man like Howie Carr in his sixties.
I'd suggest that rather than working on his head he do some work on his body. He is grossly out of shape which is strange for a man who works so hard. Then I thought maybe there's a method to his madness of having his breasts grow so large. A few more inches and hell be able to get a nighttime gig making good dough as the lead-in act for Busty Russell. He's wasting no time in this endeavor with his insatiable appetite starting each day with several of those calorie saturated morning pastries.
A friend of mine once said guys like Howie, which he was, don't have to worry. They never bury fat guys. Then he had to go and proved his theory wrong.
Seeing his work schedule I'm amazed that he is like one of those 24/7 stores which are always open ringing up sales. I wondered if he had anything in his life other that the mad dash for cash. He must be making tons of money but he is not satisfied. He is on a merry-go-round seeking more and more. Every show he puts on, every interview he does, and almost every column he writes he suggests that those who have paid attention to him should buy his latest book. Shamelessly and endlessly he pitches his books. It seems he lives to make money.
Howie would say, and he does through the way he openly hustles for money, that this is America and there's nothing wrong with getting as much as you can while the going is good. Fine but when your life revolves around the quest for more and more money to the exclusion of everything else, it seems one would not be criticising others for doing the same thing.
So I found it a slight bit hypocritical when Howie wrote last Friday: "With the Bulgers, it's all about the money." I could only wonder if Howie ever looks in the mirror and realizes that with him it is all about money also.
This made me think that Howie is quite similar to Whitey who was all about money. Whitey stole money. Howie does him one better to get money, he steals something much more dear.  Iago spelled it out:
Good name in man and woman, dear my lord,
Is the immediate jewel of their souls:
Who steals my purse steals trash; 'tis something, nothing;
'Twas mine, 'tis his, and has been slave to thousands;
But he that filches from me my good name
Robs me of that which not enriches him
And makes me poor indeed.
I guess Howie could teach the Bard a thing or two.