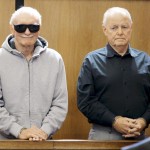 John Martorano tells in his book Murderman  Hitman that he was a member of the Winter Hill gang and he and Howie Winter got called by Mafia Underboss Gerry Angiulo to come down and have a little chat. They met with Gerry and he told them that Indian Al and his gang had killed one of his bookies. He further told them he was moving in on his territory. He asked them to eradicate him and his gang.
Ever anxious to please Gerry, Howie and Martorano went out and murdered five or six people some being the wrong guys. These weren't the first murders that these men were involved in. Martorano would eventually plead guilty to 20 murders and Howie was alleged to have been involved in several others during the so-called Irish gang war of the '60s.
In the late '70s Howie was convicted of extortion or some similar crime and ended up doing double digits in state prison. He was also indicted in the race fix case back in the late '70s.
Howie was born on St. Patrick's Day in the same year as Whitey which was 1929. So that makes him leaning closer to 85 than 84.  He's sort of lucky when you come down to it: no one has indicted him for any of the murders. I suppose Howie can't get much luckier than than.
Maybe he can. You see Howie was arrested for committing extortion in June 2012. He was indicted in September 2012.  Here we are stepping into November 2013, more than a year after the indictment, and Howie still is walking around awaiting trial.
This case is pending in Middlesex Superior Court and is being prosecuted by the Middlesex District Attorney. I've tried to find out further information on it but nothing seems to be out there in public.  You'd think with all the publicity on the Whitey case someone in the media would have been following this. It has to be remembered that Howie was Whitey's boss  and may have murdered as many people as Whitey. In the usual realm of things you'd think that would matter but in Boston where we operate according to different rules it seems not to.
On other matters, I read that the former Republican nominee for the presidency is in the process of building his fifth home, this one with a secret room.  It'll be his second home in Utah with the others in California, New Hampshire and Massachusetts, although few seem to know where it is in Massachusetts. On the same day I read about Romney's secret room home (I wonder if the secret room is counted as part of the 5,600 square feet.) I also read that the homeless occupying the NY subway system has increased. I thought the two stories on the same day were an interesting look at America.
The new FBI Director Comey had some type of ceremony yesterday that included the president and 3,500 employees.  He said: "Our first half-century or so was a time of great progress and achievement for this country, and for the bureau. But it also saw abuse and overreach – most famously with respect to Martin Luther King and others, who were viewed as internal security threats,  . . ."  To overcome these abuses and overreachings, actually they were criminal activities, the new director wants the agents to visit the statue of Martin Luther King as well as the Holocaust Museum. Those are nice things but I don't see what it has to do with the past criminal activities. I would much rather have heard him say they should stop hiding things and start recording the interviews with suspects. Or even better, they should wrap the their investigation of Todashev and Mark Rossetti and let us in on its secret.
.