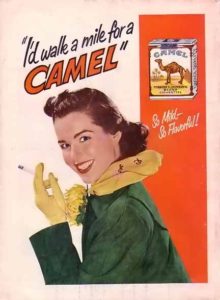 Camel cigarettes had the advertisement suggesting that you'd really go out of your way to have one. You'd walk the extraordinary distance of a mile. The folks at R.J. Reynolds thought that would be a great sacrifice.
Imagine you are an unskilled worker living in Boston. You are pretty down on your luck – a little money and no transportation – but you are looking for a job. You see an advertisement for a job in Denver, Colorado. It sounds like something you'd like to do. So you plan to set out walking to there. It is 2,000 miles away.
Google maps estimated that it would take 638 hours to make that trip or about 26 and a half days. That works out to about 24 miles a day. As I recall from my military days the distance one can travel on foot at a normal pace is 2.5 miles an hour. That means you'd have to walk ten hours a day for the 24 days to get to where you can apply for the job. If you did it you probably would not get the job anyways because you would be too tired to properly apply or the job would already have been taken.
But what if it was not for a job advertised but for a hope that a job that might materialize. How willing would you then be to take that walk? Add to that, there would be people on the way who might stop you from getting into Denver or if you arrived at the outskirts the Denver police might not let you in.
I'd suggest very few, if any, would undertake that trek. I'd also suggest that those who were willing to do that had to be far beyond the red line of desperation. They'd be people fleeing from a situation similar to what existed in concentration camps: to stay where they are means death. No matter the risk one had to attempt what to some will be just a road to a sooner and surer death.
Right now in Mexico about 2,000 miles from the closest point in the United States is a cavaran of 5,000 people many who have passed desperation into the land of utter hopelessness. With luck, some will arrive at the U.S. border probably in a month. They will pound on Americas door asking to be given a chance for a job and a chance to live without fear for their lives.
The United States will be given a little taste of what has happened to other people in the world. The nations that border on Syria flooded with Syrians escaping wars;  Bangladesh  who have Rohingyas, ethnically cleansed by the Burmese army, pouring over its borders; and the European nations dealing with flights of people from the poverty of Africa, Asia and the Middle East.
Trump is doing his traditional act. His policy is America for Americans. His initial instinct is to punish the countries from where the people come for letting their people leave. That reverses the usual American belief that people are not prisoners in their own countries. It was only the Soviet Union that kept people in with such devices as the Berlin Wall. Aside from that, it is really not such a good idea. The worse off we make those countries the more the people will flee them.
Trump talks about sending U.S. troops to the border. What will they do? Will we start shooting at these people? Will we declare war on them?
Yes, then there's the wall.  That may stop them from coming in but it won't stop these hopeless people from arriving at the wall with their wails for help. What then? Ignore them? Let them starve?
How long will we be able to abide the thousands of people yearning for the freedom we have in America leaning against our fences? People who walk 2,000 miles looking for succor are not easily dissuaded. Will we punish them by taking their children? How long will we remain deaf to their cries when they start dying at our border?
Unfortunately Trump is too obtuse to do other than lash out. He will blame the Democrats. His followers who shout out against the "leftist liberals" will fall for that. Will any accept that the horrendous conditions s those people suffer in their own countries have nothing to do with Democrats?
We will soon know what happens. Can America be more cruel to those people than the people they are fleeing from? That may be the only way to stop them. Before Trump no one would think America could do that. Now, who knows.