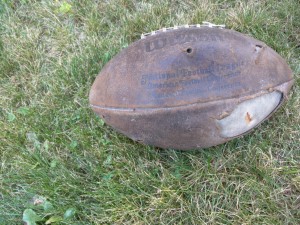 You know as well as I know that Draftsking is illegal. It is out-and-out pure gambling; it is no different from the services that have been offered by your local booking operations over the years. You place money down on a team, whether one you create in fantasy football or whether the one that has been created by others in that league called the NFL, and you hope that team wins. If it does you win some money.
The old gambling definition a price for a chance for a prize applies. It is illegal in Massachusetts. Our law enforcement people want to enforce the gambling laws when it comes to one type of gambling but not another.
The irony in what is happening today and what happened in the past leans up against the absurd. During football seasons past we would round up groups of bookies and charge the leaders of the group with organizing a gambling services.  It was a fifteen year felony.
Today the Massachusetts Attorrney General Healey says about the gambling ring run by Draftsking: "Maybe it's because they're a new industry and didn't create the kind of policies and practices you want to have in place as you grow, to make sure consumers aren't taken advantage of, or aren't duped. Whatever the reason, the point now is let's get it right."
Poor Gerry Angiulo is rolling over in his grave — the AG in his time was not concerned with him getting it right. He was concerned with putting him in prison. Every bookie in town is smiling to thing the AG thinks this is "a new business."  It may be new to her but it has been around since the first professional ball game. Perhaps she never hear of Shoeless Joe Jackson.
Drafsking is doing what the old gangsters did but doing it  in spades running an enormous gaming ring that everyone smiles at. In the 1980s guys that did it went to prison –  now they get rich and have sponsor links with the Patriots, other NFL teams, ESPN and you name it.
The true question now is will the average bookie who takes bets on NFL football games still be prosecuted; and if so, how can you not prosecute the owners of Draftsking.
Let's go back to 1994. The  federals were  using a grand jury to investigate the Boston area gaming operations. They brought two bookies before a grand jury: one Jimmy Katz and the other Chico Krantz. All these guys ever did was take wagers on games. Jimmy who is in the witness protection program was one of the best bookies in the area. I first came upon him when I was dealing with another big bookie Eddie Lewis.
Jimmy when he testified in Whitey's trial said his vocation was gambling and his hobby was gambling. Jimmy and Chico ended up being charged with violating the money laundering laws. The proceeds of gaming were illegal so when they deposited them they were using the federal banking system to process illegal money transaction. They were convicted and sent to prison.
They were then dragged out of prison and put before the grand jury (see Catherine Greig) and asked questions about who were their bosses. Jimmy would not  talk. The federals threatened to seize his family house and put his wife and two kids out on the street. Jimmy then said that Whitey and Stevie were the guys he paid tribute to.
Based on that testimony and other stuff, Whitey was indicted for running a gambling operation. The rest is history with his fleeing, his magnification into a major hoodlum, the suggestion he was an FBI informant, his capture and trial. But it all comes back to Whitey running a gaming operation the same thing the owners of Draftsking is doing today.
Think if the AG was concerned with Whitey doing it right there would have been no illegal money an no money laundering charge to force testimony. Flemmi would not have been incarcerated. He would not have told how he had been protected by the FBI. He would not have told of the murders.
John Martorano would never have done time for running a gaming enterprise. When he was indicted for race fixing he would not have run because with his record he feared doing heavy time.  He would have done his bit and gotten back into business and kept quiet about all the murders.
Continuing with the nonsense that fantasy betting involves skill whereas betting on football teams does not is absurd on its face. If fantasy is legal, so should the other forms of betting on sports be legal; enforcing the law on only one group and not on the other when both are doing the same thing more than anything tells us how big money controls our lives.
You've heard of "too big to fail;" now we have "too big to prosecute."