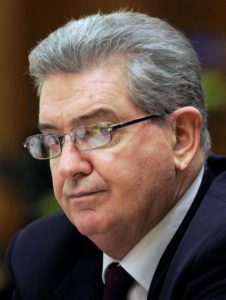 This is the third in a series examining the abominable decision by Judge Rothenberg and four other Florida Appeal Court judges in the case of retired FBI Agent John Connolly, The two prior were written on Tuesday and Wednesday of this week.  The first article dealt with the absurdity of saying a murder was ongoing three weeks before it was committed; the second considered how these judges interpreted a Florida statute intended to discourage firearms or weapons at a felony as encouraging them.
Today I discuss another absurd result that comes out of the Connolly ruling. If applied in the manner the decision in the Connolly case was applied. It would make just about every felony in Florida subject to the increased penalty. The statute in question provides: " . . .whenever a person is charged with a felony, . . .  and during the commission of such a felony the defendant carries, displays, uses, threatens, or attempt to use any weapon or firearm, . . . the felony for which the person is charged shall be reclassified . . . . "
In the Connolly case the state's evidence was that the defendant Connolly in Boston suggested a potential witness be murdered. At the time he was wearing his FBI gun. Three weeks later 1,500 miles away at the Fort Lauderdale Airport the murder took place by others. The Florida court held that this murder was ongoing or being committed at the time Connolly suggested it. He was wearing a gun at the time so he is subject to having his offense reclassified.
The gun Connolly was wearing in Boston had nothing to do with the murder in Fort Lauderdale. The mere fact he was carrying it at that time was enough in the Florida court's ruling to say he was carrying it "during the commission" of the murder.
Think of how few felonies are committed where a person did not eat a meal while planning a crime. I assume the person would have a knife and fork when doing that. The Florida court decision would allow his penalty to be enhanced because he had a weapon during the commission of the crime namely, a knife.
Take a case where two people are out boar-hunting with their guns. They plan to confront and beat up a guy who has been giving them trouble. A week later when neither one is carrying a weapon or firearm they run into the guy and severely assault him so that he dies. Under the Florida decision their punishment can be enhanced because they went boar-hunting.
I've mentioned how three guys planning to rob an enterprise decide not to bring their guns and how the Florida decision would enhance their punishment nevertheless. Or a guy who is angry at his girl and plans to murder her who visits a gun shop looking to buy a gun and handles several of them but decides against buying them. She is out-of-town and returns a few days later. He goes to her apartment and strangles her.  His visit to the gun store will enhance his penalty.
Then there's the two mugs who decide to poison another mug Skippy. They go a baseball hitting cage and with a bat swing at the ball to kill time before they meet him at McDonald's to kill him. When Skippy shows up they tell him they want to go back and hit some more balls. When he gets in the car they hand him a coke with cyanide in it . Skippy dies. Too bad they went to the hitting range and used a bat which is a weapon. Their sentences can be enhanced.
The final example is the hoodlum who is planning to break into the auto dealership with his friend to steal some tires on the Friday following Thanksgiving. Thanksgiving he has his friend over with his family and carves the turkey up and serves it. Too bad he used the carving knife to do that because his crime of breaking and entering is ongoing and he is carrying a weapon his sentence can be enhanced.
The interpretation of a statute should not be done by judges intent on making the law for one case since it has a spill over effect. The Connolly case law is an obvious attempt to turn a law on its head to keep Connolly in prison. That's a great injustice.