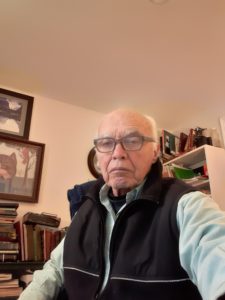 Going back to my roots, I thought I would post the introduction to my long-delayed and continuing work in process the book: "Feds, Reds, Blacks and Blues."  
INTRODUCTION:
I never considered myself a writer or historian; but here I am writing about an important part of American history. How I arrived at this point I will explain.
At Boston College I was an indifferent student majoring in accounting doing enough to get by. I then went on to be a Marine officer for three years with my primary job being that of a disbursing officer. After a tour in Japan I was stationed at Beaufort, South Carolina. After I arrived there, I found myself getting very bored living in the bachelor officer quarters. Looking for relief I went into a bookstore and picked up a Dickens novel. I started reading it. Then I read another and other books of fiction and nonfiction. I became addicted to reading often staying up all night doing it. I did so without recognizing that for the first time in my life I was really getting an education.
When I was discharged, I went to law school. I did well because of my newfound interest. I graduated, passed the bar, worked for several years as a defense lawyer and then most of my career as a prosecutor.  When I left my prosecutor position, I left everything behind except for one incident that occurred that had left a bitter taste in my mouth. That was the indictment in 1988 of state trooper John Naimovich by federal prosecutors. I never understood why it happened.
One day back in 2002 I was sitting in small restaurant near Boston City Hall with an old neighborhood friend, Brendan Bradley a Boston Police Captain, who used to train with me running the streets of Savin Hill in our combat boots. He asked me if I planned to go to the trial of FBI Agent John Connolly. It was scheduled to start in a week or so. I told him I had not been following it and had no plans to go.
Later that day or the next I thought about his question. I also thought how Connolly, no relation, was an FBI agent involved in the investigation of the state trooper. Perhaps I could learn more about why he was investigated by the FBI which brought about his indictment. I decided to attend the trial.  I attended every moment of it thanks to Judge Joseph Tauro who arranged for me to get a seat in the courtroom which was often jam packed.
I did not learn anything more about the issue that brought me there; but I did think that there was something about the trial which seemed to me a little odd. Maybe because I had tried many cases I was sensing that things were not as they appeared. At one point a litigation lawyer sitting next to me perhaps sensing what I felt commented: "Is this thing fixed?"
Connolly would be convicted of some of the lesser offenses; he was sentenced as if he had been convicted of all the offenses including the major ones. He received the maximum possible sentence of ten years which was a nice thank you for his over twenty years as an FBI agent from 1968 to 1990. I supposed it was the right sentence if he were corrupt; perhaps that was what bothered me and that other lawyer was how could he be corrupt when what he was doing was open and notorious in the FBI.
Wasn't John Connolly doing what the FBI wanted him to do? Was that something that was corrupt? Was this the trial of one agent to cover up the corruptness of the whole group?
Connolly would later be pursued in a Florida state court by the federal prosecutors. Under the guise of a state murder indictment the federal prosecutors took their team and paid witnesses to Florida. They tried him again on the same thing a federal jury in Boston found not proven. He was convicted of murder by gun. There was no evidence he had a gun at the time of the murder; he was in Massachusetts when the murdered occurred. The appeals court upholding his conviction twisted the law so that a person who was cleaning her gun earlier in the day planning on how to smother her spouse that night could be charged with murder by gun. Connolly has been in prison since 2002. As things stand now he will die in prison for doing the job the FBI wanted him to do.
(Continued tomorrow)