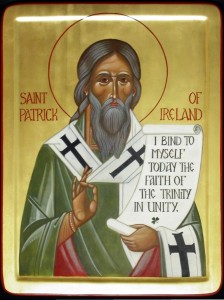 When the magic goes and the show changes it's time to pull the show and the image connected with it.
Reading about the breakfast on Sunday at the cavernous Massachusetts Convention Center where 460 people were to attend it appeared the fun is gone. One paper published "fun facts" about the breakfast that seemed to far from my definition of "fun." Descriptions of it after the event used the adjectives "maudlin," "painful, and "jokes proudly delivered and poorly received."   
Joe Fitzgerald in the Herald started off his column: "You can certainly add the St. Patrick's Day Breakfast to your growing list of 
attractions that are fading fast in this town."  He went on: "the whole affair was "painful," especially if you recall the days when Billy Bulger gave it such panache."  
One line in a newspaper had it: "order was restored at a storied, but often cringe-inducing event that briefly detoured into the lively and historic last year when Dorcena Forry, a Haitian-American woman, assumed hosting duties at a roast long dominated by Irish-American men." To my surprise the writers seemed surprised that a Saint Patrick event had long been dominated by Irish-American men.
Another line noted Senator Markey said: "On a day in South Boston, when Linda is to host and the LGBT community can march in the St. Patrick's Day parade . . .  hope and history are rhyming." The writer said Markey "sought to link the two events in a paean to inclusivity." (my emphasis)
But that's not what it is supposed to be about. It should be a paean to St. Patrick. It should be a paean to the Irish Catholic Bishop who brought the Irish their religion. Right now it is anything but. Inclusivity is fine and if that is the purpose of the day call it Inclusivity Day but don't pretend it has anything to do with St. Patrick when the Irish magic has flown.
The St. Patrick's Breakfast now has little connection with the lilting laughter and fun that it once had when Billy Bulger took over and gave us hours of gladness that made it into the event that made us Irish proud. It was held in a hall where the day before they'd take the wallpaper off the walls to make enough room for the crowd that packed itself in.
It was held in the middle of Southie (South Boston – the Boston Irish Enclave) attended by a raucous Irish crowd (those that weren't truly Irish knew what it meant to be Irish) entertained by an Irish band that played traditional Irish songs led by a skillful accordionist Jimmy Concannon who knew from his youth the right Irish song to keep the joy and laughter flowing at the highest level. Sometimes he was accompanied by renowned Irish Tenor Roger Concannon (no known relationship) who lived in Ireland and always with other musicians of substantial Irish merit from Southie. The hall would rock to the rafters with song and laughter. It was reminiscent of a true Irish celebration. Like an Irish wake there was food, drink and songs about the joy of an Irish life.
It was after all the Saint Patrick's Breakfast. It was all about Irish magic. It was put on by people who heard the stories of the "little people," not those referred to by the "Queen of Mean" Lena Mindy Rosenthal aka Leona Hensley, but rather the leprechauns who hid in the fields. They knew of the wail of the banshee and the evil of the strangers who invaded the land of their ancestors attempting a genocide. They were brought up on Irish truths and Irish lore.
Saint Patrick was Irish. He was also something else that may surprise many, a Catholic bishop. He converted the Celts living on a small island lying westward across the Irish Sea from Europe away from their pagan beliefs to the doctrines taught by the popes from Rome. This nation of warriors, properly describe by G. K. Chesterton as a mad race that sang happy songs of war and sad songs of love, clung dearly to the religion Saint Patrick brought despite the Penal Laws (Laws in Ireland for the Suppression of Popery).
Until Billy Bulger came along the breakfast had little to do with the Irish. It was put on sporadically over the years by the mayor and other politicians more as a dour get together on a Suffolk County holiday, Evacuation Day, than having anything to do with the good saint or anything Irish. Billy brought to it the Irish spirit and the music and the joy that kicked off the top of the morning.
That is the tradition that brought about the St. Patrick's Day celebrations; that is the tradition behind the St. Partrick's Day parade. It was a day to celebrate what St. Patrick was all about, Irish and Catholic, in any way one desired. It was a day for those abstaining from liquid refreshment during Lent to take a break in the ordeal. It was not meant to celebrate any other tradition or belief but that of the Irish Catholic. It was a day in 1957 when I stood and cheered for Dublin's Lord Mayor Robert Briscoe.
You know that if you are from Southie. If you went to the parochial (Catholic) schools you were taught it. If you went to public school, like me, the name of the school told you what you were about. The grammar school I attended Michael J. Perkins was named after an Irish Catholic hero from South Boston in WWI who received our nation's highest military award for bravery the Medal of Honor. Where else in America have they named a school after a private in the army? I also attended the John Boyle O'Reilly. He was another Irish Catholic warrior as well as a poet who was transported from Ireland to Australia for his fight to free Ireland. He settled in Boston.
When Billy Bulger left as host of the breakfast others tried to fill in; they were all stolid and lead footed. None had the sense of the Irish wit that Billy brought. As Billy would have it, to a battle of wits they come unarmed.  To make things worse, to the knowledge of what it is to be Irish they come naked.
The events in South Boston have had their Irish Catholic magic shorn from them. Those involved now pride themselves on inclusivity which is a good thing and what our nation should be about. But connecting St. Patrick's name to things that are not Irish and is in no way connected to Irish culture is plainly wrong.
Next year we need an Inclusivity Breakfast that will celebrate Inclusivity Day. St. Patrick was not inclusive. He taught only one religion to one people. He chased non-believers along with the snakes out of Ireland. It's time to protect this great man by disassociating his name from such tawdry events as what happened last Sunday. No Irish should apply.