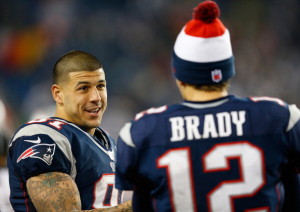 Aaron Hernandez and Tom Brady were in the news this week. Aaron got a little bit of good news while Brady got the opposite. Who would ever think when watching them play for the team not too long ago that they would end up in their present dilemmas?
Hernandez was in the news when he was charged with a crime that happened in Florida. You ask how that is good news. I'm not talking about that. It is much ado about nothing. Everyone knows except the Suffolk DA you cannot be charged in Massachusetts for a crime that happened in Florida. That Florida case is going nowhere.
Hernandez's good news came when the Supreme Judicial Court (SJC) of Massachusetts decided Commonwealth v. Taveres. If Hernandez has any money left for his lawyers I expect they will be before Judge Garsh next week looking for a new trial based on that Taveres decision. And, if Judge Garsh wants to keep her record of never having been reversed by the SJC intact, I'd have to guess she will grant the motion.
The Taveres case facts are that Taveres got in an argument in a bar with a guy named Eason. They were separated. Taveres left the bar and walked south. A minute or two later a guy named Pina coming from the south entered that bar and along with a guy named Goncalves. They got in an argument and fight with Eason. Meanwhile Taveres returned to the scene and waited outside the bar with a gun.
After the dispute in the bar was broken up, Eason left it and headed for his car. Pina and Goncalves followed him out about 15 seconds later. Goncalves again got into a dispute with Eason. They were about to squaring off to fight when Taveres approached Eason. He pointed the gun at him. A witness testified Taveres looked like he was "racking" the gun, that is trying to put a bullet into the chamber so it could be fired. Eason pointed his finger at Taveres. They backed away.
We know most of this because it is recorded on videa cameras located in the area.
After Taveres backs away he moves out of view. The next thing we see is Pina rushing toward Eason with Taveres gun. He shoots Eason who runs up the street. Pina follows him shooting him in the back several times; Taveres follows two seconds behind Pina. Eason was felled by the shots and died. Pina and Taveres headed off in different directions.
Both Pina and Taveres were convicted of first degree murder by deliberate premeditation under the joint enterprise theory. Hernandez was convicted of first degree murder by extreme atrocity or cruelty under the joint enterprise theory.
The SJC ordered that Taveres be given a new trial.
It said that although Taveres and Pina were joint venturers it did not mean they had to be convicted of the same criminal act because their intent may have been different. "Because the defendant's intent was open to multiple interpretations based on the evidence, considering the facts in the light most favorable to the defendant, rather than to the Commonwealth, plays a significant role in our analysis of what crime the jury could have found the defendant committed. Thus, although we concluded, supra, that the trial evidence was sufficient to support a conviction of murder in the first degree, viewed differently, the same evidence could have supported a conviction of involuntary manslaughter." (my emphasis)
The SJC said the judge should have instructed the jury that aside from murder it could also find Taveres guilty of involuntary manslaughter: "where a defendant is charged with murder, an instruction on involuntary manslaughter is appropriated if a reasonable  view of the evidence would [permit] the jury to find there was 'wanton and reckless' conduct' rather than actions from which a 'plain and strong likelihood' of death would follow.""  In other words if the jury found the defendant by his actions knew there was a plain and strong likelihood death would follow he could be convicted of murder; but if the defendants actions were "wanton and reckless" in which a high degree of likelihood that substantial harm will result to another then that is manslaughter.
The SJC said the jury could have found manslaughter if it found Taveres brought the gun to the scene. When he pointed the gun at Eason he intended to scare him or intimidate him but not to fire it; and that Pina unexpectedly grabbed the gun out of his hand and he "did not know Pina would take the gun or that he would fire it." It could have found Taveres did not think his actions would likely lead to Eason's death but he would have known they created a high degree of likelihood of substantial harm to him.
This is almost identical to the Hernandez case. No one knows what happened at the scene where Odin Llyod was murdered. It was outside of the view of the camera. Hernandez may only have intended to scare Llyod and one of the others unexpectedly grabbed the gun out of his hand and shot him. Since that was something the jury could have found considering the facts in the light most favorable to the defendant it should have had the option to find manslaughter rather than murder.  It was not given that option.
The SJC noted defendants in a joint venture may have "different mental states or culpability with respect to the act"  and that "we have not required that all who participate as joint venturers in a single killing be found guilty of the same offense."
The SJC criticized the judge because she "did not explain to the jury during her instructions on joint venture that codefendants could be convicted of different offenses;  and . . . the evidence relating to the defendant would have supported an instruction on involuntary manslaughter. . . . "  
I  don't recall whether defense counsel asked the judge to instruct on manslaughter. I assume they did. (If they didn't, that might be ineffective assistance of counsel but that's another issue for another day.)
If they asked for that instruction and Judge Garsh did not give it then they will definitely get a new trial.
If Judge Garsh didn't explain to the jury that each of the three men at the scene of the murder of Llyod even though  engaged in a joint enterprise could be convicted of different crimes depending on their intent and her failure to give the jury the option to return a manslaughter indictment then Hernandez in all likelihood will get a new trial.