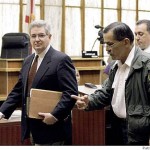 Yesterday I wrote about the Lad as being a stand-up guy. He lived by a code almost none of his friends did by never cooperating with law enforcement or disclosing the illegal acts of others to benefit himself. When he heard others were ratting people out or writing books he shrugged. Not for him to become an informer, the well-known bane of the Irish during its suppression by the British.
I said there were no stand-up guys among those who associated with Whitey in South Boston; even one guy who did heavy time for not talking felt compelled to write a book about his exploits after he got out of the can in which he implicated others in his criminal acts. That too is a step too far.
There is however one guy from Southie who is involved in this saga who did not talk or write a book; rather he went to trial twice asserting his innocence. He may end up dying in prison. That is retired FBI agent John Connolly.
It's really incredible when you think of his situation. He has now done more time than John Martorano who murdered at least 20 unarmed people, mostly by shooting them in the head. Connolly never fired a gun at anyone. But I digress.
I'm not going to get into the injustice of Connolly's situation, I'm only going to discuss the narrow issue: "Is he a stand-up guy?" The answer has to be no.
Here's why. The concept of a stand-up guy is you commit your crimes with others. When you are caught and offered a deal you don't turn on your buddies to get a deal for yourself. An example of such a person is the guy Ralph DiMasi who testified during Whitey's trial. He'd just gotten out of prison after a dozen or more years. He has spent most of his life in prison. He could look back on his misspent youth and adulthood knowing he did his time for his two-bit crimes with honor; he never ratted anyone out.
He made a comment in his testimony about the injustice that others who murdered people and cooperated were walking the street. When you come down to it the system is pretty misguided when the worst criminals who cement their vileness by becoming informants can in most cases do less time thanthose who had lesser involvement in criminal activity with the squealer or were run-of-the-mill criminals who acted alone.
Look at John Connolly's case. It was his supervisor John Morris who was making a deal against the guy who worked under him. Go figure! It was Morris who got the money from Whitey and Stevie; any evidence Connolly did was disbelieved by the jury. It was Morris who tried to use his witting conspirators at the Boston Globe to publish in that newspaper the information that Whitey was an informant for the FBI hoping to get Whitey hit by the North End. If that happened he figured his depredations would be hidden forever
So why isn't Connolly a stand-up guy? He's got no one to stand up for. He wasn't involved in any criminal activity or conspiracy. He was out of luck since he had no one to turn on.
Remember I told how I went up to him during a recess in the trial. He was standing outside the courtroom in the corridor with his back to the windows overlooking the harbor. This was around the time I figured the trial was more about trying to blacken Billy Bulger's name than to convict John Connolly.
I approached him. We knew each other from our work. I had one or possibly two matters that caused me to contact him over the years. He was closer to my brothers. As I've noted before, my office and the FBI did not see eye to eye. We were by no means friends, and in fact, I was at the trial trying to find out why his FBI squad had done something that I found highly distasteful.
But it bothered me that Connolly was being put out there as a sacrificial lamb by the government which really had another purpose in mind which was by squeezing him they might get something on Billy. I indicated as much to him. He said to me something to the effect: "How could I give them something on Billy? He's a man of integrity."
Those words stuck in my mind. Not that I ever doubted Billy's integrity but because it showed John knew what they were after. He was not willing to make up something to save himself. He knew by saying that to me that had he ever even thought to do it I would be called to impeach his testimony.
He went on to say, either then or another time we talked, that he was told that he could make a deal if he could give someone higher in the FBI. He said he couldn't do that either because he had nothing to offer. No one he knew had done anything criminal.
John Connolly had fallen into the worst trap anyone could who is prosecuted federally, he couldn't deal someone else out. He certainly could have made up some lies about others the government was interested in as we saw Martorano do when he put Whitey into some of the killings that were done for Angiulo which by the way the jury disbelieved. But since Connolly believed none of the people he knew or worked with had done anything wrong, he was not going to throw in someone just to get a deal.
So he's not a stand-up guy under my definition. He's a guy who refused to lie about other people to save himself. What do we call such a guy? Do we have a term for him?